---

Risen Star

Risen Star was one of the most successful racehorses ever to come out of Louisiana. Sired by the legendary Secretariat, one of the most celebrated racehorses in American history, Risen Star finished third in the 1988 Kentucky Derby and then won the other two jewels in racing's Triple Crown: the Preakness and the Belmont Stakes. Of the 699 offspring produced by Secretariat, Risen Star would become one of the most successful of the famed 1973 Triple Crown winner's progeny. However, like all of Secretariat's descendants, he would be subjected to unfair comparisons and unrealistic expectations. A leg injury eventually forced him into a premature retirement.
Born on March 25, 1985, Risen Star was purchased by Louisiana-based owner Ronnie Lamarque and owner-trainer Louis Roussel III in 1987. At two years old, Risen Star did not race much, but he did capture the Minstrel Stakes at Louisiana Downs.
The stallion's three-year-old season, in 1988, was truly stellar, with victories in the Louisiana Derby and the Lexington Stakes, making him one of the favorites going into the Kentucky Derby. The "Run for the Roses" saw jockey Eddie Delahoussaye boxed in down the back stretch, however, and despite a late charge, Risen Star finished third at Churchill Downs. The dark bay turned heads two weeks later when he captured the Preakness, followed by a decisive 14¾-length victory in the Belmont Stakes.
In his trademark smooth and easy stride in the first half of the course, coupled with a dramatic finish down the back stretch, Risen Star ran the fourth-fastest time in Belmont history, covering the mile-and-a-half course in two minutes, 26.4 seconds, winning by fourteen lengths. Comparisons to his sire were inevitable, although Secretariat covered the distance in two minutes, 24 seconds flat, thirty-one lengths ahead of the next-closest horse. Risen Star also aggravated an injury to his right ankle during the Belmont that forced him into early retirement. The injury had been a source of concern to Roussel all spring, but a severe strain to the suspensory ligament during the race hastened the decision.
Risen Star won the 1988 Eclipse Award as American Champion Three-Year-Old Male Horse. He followed his sire Secretariat in 1973 and his grandsire Bold Ruler in 1957 as a winner of the Eclipse Award, which honors American thoroughbred racing champions. Risen Star won more than $2 million in purses during his short career, compiling a record of eight wins in his eleven races. He also won $1 million as the horse with the best record in the 1988 Triple Crown races. Roussel donated ten percent of Risen Star's earnings to the Little Sisters of the Poor after having been cured of throat cancer.
Risen Star was syndicated for $7 million and stood at stud on Walmac Farms in Lexington, Kentucky. Two of his offspring, Star Standard and Risen Rave, achieved modest success, although these horses were also subjected to the same unrealistic expectations that had been placed on Risen Star as the son of Secretariat. In 1989 the Fair Grounds in New Orleans renamed the Louisiana Derby Trial Stakes the Risen Star Stakes in his honor. It is run every February as one of the qualifying races for the Louisiana Derby.
Risen Star died on March 13, 1998, 10 years to the day after winning the Louisiana Derby. at Walmac Farms, where he is buried.
Written By S. Derby Gisclair. Photo of Risen Star, Ronnie Lamarque, and Louie Roussel III by Anne M. Eberhardt
---

You Can Support this Site by Clicking on & Shopping from this Amazon Link -- and it won't cost you a penny more: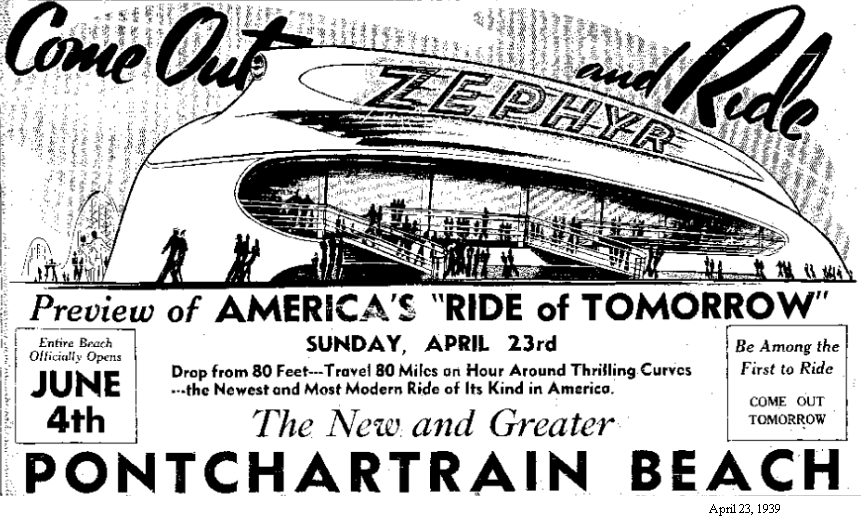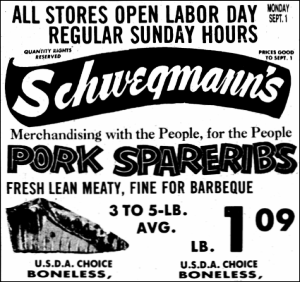 Jazzman Daniel "Danny" Barker, born on January 13, 1909, passed away on March 13, 1994.

Born on March 13, 1901 in Plaquemines Parish, Andrew Morgan played clarinet with the Imperial Band in the mid-1920s and then joined his brother Isaiah Morgan's band in 1925. Sam Morgan led this ensemble for its 1927 recordings. Andrew recorded in the late 1920s and 1930s with Kid Howard, Kid Rena, and Kid Thomas Valentine. He and Isaiah played together again in Biloxi, Mississippi in the 1940s, then Andrew moved back to New Orleans to play with Alphonse Picou, Kid Rena again, Herb Morand (1946–52), and Kid Clayton (from 1952). He played with the Young Tuxedo Brass Band from 1958 and led the group after 1964. Morgan played with Percy Humphrey in 1953, Sweet Emma Barrett in 1960, Kid Howard again in 1962, Alvin Alcorn in 1964, Onward Brass Band in 1965, Eureka Brass Band in 1969, and with Captain John Handy in 1970. He recorded as a leader in 1969 for the album Down By the Riverside.
The City Park property was famous as a dueling ground long before it was a park – more Affaires d'honneur were fought in New Orleans than in any other American city. They resulted from serious affronts, petty insults, or deliberate confrontations for the sole purpose of displaying fencing skills. Weapons of choice included swords, sabers, pistols, rifles, even bare hands. During the 1800s a series of duels were fought between fencing masters – the most famous, Spaniard Pepe Llula was known as a duelist who met any man with any weapon.
Times-Democrat
on
March 13, 1892
, reported, "Between 1834 and 1844 scarcely a day passed without duels being fought at the Oaks". Dueling had been outlawed two years before under the death penalty (if a death resulted) but it was seldom enforced. The location of exactly were to meet "under the oaks" was well-known and confined to an area appropriately 150 feet diameter near what is now NOMA – pictured is a 1919 re-enactment on that spot. (LDL) #019cp
On March 13, 1892 the Daily Picayune described City Park improvements since Anseman's appointment – including this drawing of the new "3000 foot fence and iron gate on Alexander Avenue painted red". The article stated that CPIA had collected $1000 from the city and $8000 in donations and membership fees and that it had cut weeds, placed circular benches around the dueling oaks, built a Ladies Cottage rest-area (with parlors, closets and porches) near the gate, a Mens Cottage near Bayou Metairie, and a footbridge across the bayou. It described "50,000 oranges, lemon and fruit trees for revenue" and a "palmetto alley with Spanish dagger plants and lantanas". And the Picayune described the Saux building -- "the stuccoed hostelry of Jean-Mario [sic] on Alexander Street with its rose garden and green pea and thyme and orange trees where in the past the order be given of pistols for two and coffee for one". #042cp

Natchez VI was again a Cincinnati-built boat. It was 273 feet long. The capacity was 5,000 cotton bales but the power remained the same. It helped transport Jefferson Davis from his river plantation home on the Mississippi River after he heard he was chosen president of the Confederacy. Even after the war, Davis would insist on using Leather's boats to transport him to and from his plantation, Brierfield. Natchez VI was also used to transport Confederate troops to Memphis, Tennessee. After Union invaders captured Memphis, the boat was moved to the Yazoo River. On March 13, 1863, it was burned either by accident or to keep it out of Union hands at Honey Island. Remains were raised from the river in 2007.
Michel Doradou Bringier, planter, owner of Hermitage Plantation, Ascension Parish, La. Born, December 6, 1789, allegedly at sea while parents were on a voyage; son of Marie Françoise Durand and Marius Pons Bringier (q.v.). Education: Paris, France. Married Louise Elizabeth Aglaé Du Bourg, June 17, 1812, in Baltimore, Md.; she was the daughter of Elizabeth Etiennette Bonne Charest and Pierre François Du Bourg, an adjutant general on the staff of Gov. W. C. C. Claiborne (q.v.) at the Battle of New Orleans. Children: Marius St. Colombe (b. 1814), Marie Elizabeth Rosella (b. 1818), Louise Françoise (b. 1820), Anne Guillelmine Nanine (b. 1823), Louis Amédée (b. 1828), Marie Elizabeth Aglaé (b. 1830), Louise Marie Myrthé (b. 1834), Anne Octavie Marie (b. 1839), and Martin Doradou (b. 1842). Given a plantation by his father as a wedding gift; first crops were indigo and tobacco; later the vast acreage was converted to sugarcane cultivation; named his plantation mansion, which was built between 1812 and 1814, the Hermitage, after the Tennessee home of Gen. Andrew Jackson (q.v.); bought Whitehall, the family plantation, 1821; sold in 1825, it was repurchased by his widow in 1848. Died, March 13, 1847, Memphis, Tenn.; interred family tomb, Catholic cemetery, Donaldsonville, La. Widow, Aglaé, died at Melpomène, the family mansion in New Orleans, June 4, 1878. The Hermitage was bought in 1880 by Duncan F. Kenner (q.v.), husband of Nanine Bringier. J.B.C. Sources: Herman de Bachelle Seebold, Old Plantation Homes and Family Trees, 2 vols. (1941); Jess DeHart, Plantations of Louisiana (1982); Marie Cruzat de Verges, comp., American Forces at Chalmette (1966). From http://lahistory.org/site19.php
Front page news in the Daily Picayune on September 28, 1911 announced the arrest of Miss Annie Crawford, 28 year-old resident of 1011 Peters Avenue, for the poisoning of her 24 year-old sister Elise at their home. on September 23. Elise had been ill for quite some time before her death.
The Crawford family had lost three family members within the past 15 months. On June 25, 1910, another sister, Mary Agnes Crawford died suddenly -- the cause of death was attributed to Acute Meningitis. Three weeks later on July 15 her father, Walter C. Crawford passed away -- the cause of death was allegedly Uremic Poisoning. Two weeks after that, on July 29 her mother died -- it was thought that she also succumbed to Uremic Poisoning. Upon the death of Elise suspitions were raised that the family might have been victims of murder.
Dr. J.C. McGuire who had treated Elise claimed that her symptoms were not connected with the heart trouble she had suffered but that they more closely resembled morphine poisoning. Dr, McGuire admitted Elise to Charity Hospital where she died the following morning. The coroner's report concluded that morphine had been found in her stomach after her body was exhumed from St. Patrick's Cemetery Number 3 for examination. Relatives reported that Annie had an addiction to morphine. She had worked in the drug department of the New Orleans Sanitarium (renamed Presbyterian Hospital) but was discharged for alleged irregularities in her accounting of medications. In her position at the hospital she became familiar with the actions of poisons and other drugs.
Out of work since losing her job, it was determined that she was the insurance beneficiary of each deceased family member; Mary Agnes was insured for $300, her father for $800, her mother for $800, and her sister Elise for $250. Another sister, Gertrude, said "I don't want Annie to nurse me if I ever get sick. She gives such funny medicine". District Attorney St. Claire Adams said, "It was established today the that Annie Crawford is a drug fiend and probably is addicted to morphine. It is also established that she had access during the past three weeks to morphine and was in a position to obtain it in practically any quantity. During the indisposition of Elise Crawford she bitterly complained that her food and drink were drugged. I have charged Annie Crawford with the murder of her sister Elise".
The case came before the Grand Jury on October 10 and Annie Crawford was indicted. On March 13, 1912 the trial began and she pled not guilty. She had admitted to poisoning Elise with morphine capsules but said that she accidentally administered the wrong medication -- she thought she had given Elise calomel tablets which she had purchased at Waldorf's Pharmacy. She also admitted to being a morphine addict.
Elise's body was, once again, exhumed for further examination. Laboratory slides harvested from her organs were brought to the courtroom as evidence. Annie's attorney Lionel Adams exclaimed that this was a "macabre display" while District Attorney St. Claire Adams objected. Tempers flared and the two began to physically scuffle. While others in the courtroom attempted to quell the melee the slides were pushed and went crashing to the floor. Annie was led from the room while fainting. During the trial, professors from Tulane Medical School were called in as expert witnesses. Some opposed the opinions of others. Tulane students aligned with the professor whose opinion favored Annie's innocence rushed to Parish Prison in an attempt to carry her away. Police formed a ring of guards around the building and the students were barred from the courtroom.
This spectacular trial, which attracted national attention, ended as a mistrial on March 26, 1912 as a mistrial. The jury had voted 9-3 in favor of an acquittal but were deadlocked and failed to reach a verdict. Anne Crawford was not tried for the murder of her mother, father, or other sister because they had been buried too long for current forensics to determine if they had been poisoned. On March 27, 1913, Elise's organs were released to Annie and her remaining siste and reburied at St. Patrick's. The two sisters reported that they planned to move to Port Arhtur, Texas.
On June 10, 1912, Senator Schator Williams introduced a bill to prohibit written and oral confessions of prisoners. Citing Annie Crawford's case as a "cruel example" of third degree methods used by Distrct Attorney Adams' office as an example of coercive tactics, the bill passed with only one nay vote.
The Axman's Letter
March 13, 1919

A Wave of Terror

Michael Pepitone/Pipitone was attacked on the night of October 27, 1919. His wife was awakened by a noise and arrived at the door of his bedroom just as a large, axe-wielding man was fleeing the scene. Mike Pepitone had been struck in the head, and was covered in his own blood. Blood splatter covered the majority of the room, including a painting of the Virgin Mary. Mrs. Pepitone, the mother of six children, was unable to describe any characteristics of the killer. The Pepitone murder was the last of the alleged axman attacks.
The Axman was an alleged serial killer active in and surrounding communities, including Gretna, from May 1918 to October 1919. Press reports during the height of public panic about the killings mentioned similar murders as early as 1911, but recent researchers have called these reports into question.
In each of the murders one or more of the residents was killed with either an axe (which often belonged to the victims) or a straight razor and the murderer never removed items from the victims' homes. In most cases, the back door of a home was smashed or the door panels were removed to allow entrance into the homes. The majority of the victims were Italian-Americans.
The first victims were Joseph and Catherine Maggio. Joseph Maggio.
He was an Italian grocer who was attacked on
May 22, 1918
while sleeping alongside his wife, Catherine, at their home on the corner of Upperline and Magnolia Streets, where they conducted a barroom and grocery. The killer broke into the home, and then proceeded to cut the couple's throats with a straight razor. Upon leaving he bashed their heads with an axe, perhaps in order to conceal the real cause of death. Joseph survived the attack, but died minutes after being discovered by his brothers Jake and Andrew Maggio. Catherine died prior to the brothers' arrival, her throat having been cut so deep that her head was nearly severed from her shoulders. In the apartment, law enforcement agents found the bloody clothes of the murderer, as he had obviously changed into a clean set of clothes before fleeing the scene. A complete search of the premises was not completed by police after the bodies were removed, yet later the bloody razor, which had been used to conduct the murders, was found in the lawn of a neighboring property.
Police ruled out robbery as motivation for the attacks, as money and valuables left in plain sight were not stolen by the intruder.
The razor used to kill the couple was found to belong to Andrew Maggio, the brother of the deceased who conducted a barber shop on camp street. His employee, Estaben Torres, told police that Maggio had removed the razor from his shop two days prior to the murder, explaining that he had wanted to have a nick honed from the blade.Maggio, who lived in the adjoining apartment to his brother's residence, discovered his slain brother and sister-in-law roughly two hours after the gruesome attacks had occurred, upon hearing strange groaning noises through the wall. Maggio blamed his lack of notice to the attacks that had occurred in the early morning hours to his intoxicated state, after a night of celebration prior to his departure to join the navy, yet police were nonetheless surprised that he failed to hear the intruder as he made a forced entry into the home.Andrew Maggio became the police chief's prime suspect in the crime, yet was released after investigators were unable to break down his statement, as well as his account of an unknown man who was supposedly seen lurking near the residence prior to the murders.
Louis Besumer
and his mistress
Harriet Lowe
, were attacked in the early morning hours of
June 27, 1918
, in the quarters at the back of his grocery which was located at the corner of Dorgenois and Laharpe Streets. Besumer was struck with a hatchet above his right temple, which resulted in a possible skull fracture. Lowe was hacked over the left ear, and found unconscious when police arrived at the scene. The couple was discovered shortly after 7 AM on the morning of the attack by John Zanca, driver of a bakery wagon who had come to the grocery in order to make a routine delivery. Zanca found both Besumer and Lowe in a puddle of their own blood, both bleeding from their heads.
The axe, which had belonged to Besumer, was found in the bathroom of the apartment. Besumer later stated to police that he had been sleeping when he was bashed with the hatchet.Almost immediately, police arrested potential suspect Lewis Oubicon, a then 41 year old African American man who had been employed in Besumer's store just a week before the attacks. No evidence existed which could have proved the man guilty, yet police arrested him nonetheless, stating that Oubicon had offered conflicting accounts of his whereabouts on the morning of the attack. Shortly after the attempted murder Lowe stated that she remembered having been attacked by a mulatto man, yet her statement was discounted by police due to her disillusioned state. Robbery was said to be the only possible explanation for the attacks, yet no money or valuables were removed from the couple's home.Oubicon was later released as police were unable to gather sufficient evidence to hold him accountable for the crimes. Media attention soon turned to Besumer himself, as a series of letters written in German, Russian, and Yiddish were discovered in a trunk at the man's home. Police suspected that Besumer was a German spy, and government officials began a full investigation of his potential espionage. Weeks later, after going in and out of consciousness, Harriet Lowe told police that she thought Besumer was in fact a German spy, which led to his immediate arrest. Two days later Besumer was released, and two lead investigators of the case were demoted due to unacceptable police work. Besumer was once again arrested in August 1918, after Harriet Lowe, who lay dying in Charity Hospital after a failed surgery, stated that it was he who had attacked her more than a month previously with his hatchet. He was charged with murder, and served nine months in prison before being acquitted on May 1, 1919 after a ten minute jury deliberation.
Harriet Lowe
was attacked while in bed with Louis Besumer. As is mentioned previously, Lowe was hacked above her left ear and found unconscious at the scene of the crime before she was rushed to Charity Hospital
.
Lowe became the center of a media circus, as she continually made scandalous and often false statements relating to both the attacks and the character of Louis Besumer, some of which are described in the preceding description. The Times-Picayune sensationalized Lowe and her outspoken nature upon discovering that she was not the wife of Besumer, but his mistress. A Charity Hospital source discovered the scandal, when Besumer asked to be directed to the room of "Mrs. Harriet Lowe," and was inevitably denied access as no woman by that name was a patient. Besumer's legal wife arrived from Cincinnati in the days immediately following the discovery, which further inflamed the ongoing drama. Lowe further gained media attention as she repeatedly made statements which voiced her dislike of the New Orleans chief of police, as well as her reluctance to comply with police questioning. After the truth of her marital status was revealed publicly, Lowe told reporters from the Times-Picayune that she would no longer aid the police in their investigation, as she suspected that it had been Chief Mooney who first informed the press of the scandal.
Despite the scandal, and her delirious statements which suggested that Besumer was a German spy, Lowe returned to the home she shared with Besumer weeks after the attack. One side of her face was partially paralyzed due to the severity of the attack.
Lowe died August 5, 1918, just two days after doctors performed surgery in an effort to repair her partially paralyzed face. Just prior to her death, Lowe told authorities that she suspected it was Louis Besumer who had attacked her.
Mrs. Schneider was attacked in the early evening hours of August 5, 1918. The 8 months pregnant, 28 year old of Elmira Street, awoke to find a dark figure standing over her, and was bashed in the face repeatedly. Her scalp had been cut open, and her face was completely covered in blood. Mrs. Schneider was discovered after midnight by her husband, Ed Schneider, who was returning late from work. Schneider claimed that she remembered nothing of the attack, and gave birth to a healthy baby girl two days after the incident. Her husband told police that nothing was stolen from the home, besides six or seven dollars that had been in his wallet. The windows and doors of the apartment appear to have not been forced open, and authorities came to the conclusion that the woman was most likely attacked with a lamp that had been on a nearby table. James Gleason, who police said was an ex-convict, was arrested shortly after Schneider was found. Gleason was later released due to a complete lack of evidence, and stated that he originally ran from authorities because he had so often been arrested. Lead investigators began to publicly speculate that the attack was related to the previous incidents involving Besumer and Maggio.
Joseph Romano
was an elderly man living with his two nieces, Pauline and Mary Bruno. On
August 10, 1918
, Pauline and Mary awoke to the sound of a commotion in the adjoining room where their uncle resided. Upon entering the room, the sisters discovered that their uncle had taken a serious blow to his head, which resulted in two open cuts. The assailant was fleeing the scene as they arrived, yet the girls were able to distinguish that he was a dark-skinned, heavy-set man, who wore a dark suit and slouched hat. Romano, although seriously injured, was able to walk to the ambulance once it arrived, yet died two days later due to severe head trauma. The home had been ransacked, yet no items were stolen from Romano. Authorities found a bloody axe in the back yard, and discovered that a panel on the back door had been chiseled away. The Romano murder created a state of extreme chaos in the city, with residents living in constant fear of an axman attack. Police received a slew of reports, in which citizens claimed to have seen an axman lurking in New Orleans neighborhoods. A few men even called to report that they had found axes in their back yards
. John Dantonio, a then retired Italian detective, made public statements in which he hypothesized that the man who had committed the axman murders was the same who had killed several individuals in 1911. The retired detective cited similarities in the manner by which the two sets of homicides had been committed, as reason to assume that they had been conducted by the same individual. Dantonio described the potential killer as an individual of dual personalities, who killed without motive. This type of individual, Dantonio stated, could very likely have been a normal, law abiding citizen, who was often overcome by an overwhelming desire to kill. He later went on to describe the killer as a real-life "Dr. Jekyl and Mr. Hyde".
Charles Cortimiglia
was an immigrant who lived with his wife and baby on the corner of Jefferson Avenue and Second Street in Gretna. On the night of
March 10, 1919
, screams were heard coming from the Cortimiglia Residence. Grocer Iorlando Jordano rushed across the street to investigate when he heard screams from the Cortimiglia residence.Upon his arrival, Jordano noticed that Charles Cortimiglia, his wife Rosie, and their infant daughter, Mary, had all been attacked by the unknown intruder. Rosie stood in the doorway with a serious head wound, clutching her deceased daughter. Charles lay on the floor, bleeding profusely. The couple was rushed to Charity Hospital, were it was discovered that both had suffered skull fractures. Nothing was stolen from the house, but a panel on the back door had been chiseled away. A bloody axe was found on the back porch of the home. Charles was released two days later, while his wife remained in the care of doctors. Upon gaining full consciousness, Rosie made claims that Iorlando Jordano and his 18 year old son, Frank, were responsible for the attacks. Iorlando, a 69 year old man, was in too poor of health to have committed the crimes. Frank Jordano, more than six feet tall and weighing over 200 pounds, would have been too large to have fit through the panel on the back door. Charles Cortimiglia vehemently denied his wife's claims, yet police nonetheless arrested the two, and charged them with the murder. The men would later be found guilty. Frank was sentenced to hang, and his father to life in prison. Charles Cortimiglia divorced his wife after the trial. Almost a year later, Rosie announced that she had falsely accused the two out of jealousy and spite. Her statement was the only evidence against the Jordanos, and they were released from jail shortly thereafter.
Rosie Cortimiglia was the wife of immigrant laborer Charles Cortimiglia. She was attacked alongside her husband on March 10, 1919 while sleeping with her baby in her arms. She was badly wounded by the axman, but survived the incident.Mary Cortimiglia was the two-year-old daughter of Charles and Rosie Cortimiglia. She was killed while sleeping in her mother's arms with a single blow to the back of the neck when she and her parents were attacked on March 10, 1919.
On March 13, 1919, a letter purporting to be from the Axman was published in the newspapers saying that he would kill again at 15 minutes past midnight on the night of March 19, but would spare the occupants of any place where a jazz band was playing. That night many New Orleans's dance halls were filled, while bands played jazz. Victolas also played jazz in home living rooms. There were no murders that night. The letter read:March 13, 1919
Hell, March 13, 1919
Esteemed Mortal:
They have never caught me and they never will. They have never seen me, for I am invisible, even as the ether that surrounds your earth. I am not a human being, but a spirit and a demon from the hottest hell. I am what you Orleanians and your foolish police call the Axman.
When I see fit, I shall come and claim other victims. I alone know whom they shall be. I shall leave no clue except my bloody axe, besmeared with blood and brains of he whom I have sent below to keep me company.
If you wish you may tell the police to be careful not to rile me. Of course, I am a reasonable spirit. I take no offense at the way they have conducted their investigations in the past. In fact, they have been so utterly stupid as to not only amuse me, but His Satanic Majesty, Francis Josef, etc. But tell them to beware. Let them not try to discover what I am, for it were better that they were never born than to incur the wrath of the Axman. I don't think there is any need of such a warning, for I feel sure the police will always dodge me, as they have in the past. They are wise and know how to keep away from all harm.
Undoubtedly, you Orleanians think of me as a most horrible murderer, which I am, but I could be much worse if I wanted to. If I wished, I could pay a visit to your city every night. At will I could slay thousands of your best citizens, for I am in close relationship with the Angel of Death.
Now, to be exact, at 12:15 (earthly time) on next Tuesday night, I am going to pass over New Orleans. In my infinite mercy, I am going to make a little proposition to you people. Here it is:
I am very fond of jazz music, and I swear by all the devils in the nether regions that every person shall be spared in whose home a jazz band is in full swing at the time I have just mentioned. If everyone has a jazz band going, well, then, so much the better for you people. One thing is certain and that is that some of your people who do not jazz it on Tuesday night (if there be any) will get the axe.
Well, as I am cold and crave the warmth of my native Tartarus, and it is about time I leave your earthly home, I will cease my discourse. Hoping that thou wilt publish this, that it may go well with thee, I have been, am and will be the worst spirit that ever existed either in fact or realm of fancy.
The Axman
Some citizens sent the newspapers invitations (to be published) for the Axman to visit their homes on that St. Joseph's Day evening and see who would be killed first. One invitation promised to leave a window open for the Axman, politely asking that he not damage the front door. A song was written (see above) by Joseph John Davilla titled "The Mysterious Axman's Jazz (Don't Scare Me Papa) and published by the World's Music Publishing Company which maintained an office at 413 Godchaux Building.
Steve Boca
was a grocer who was attacked in his bedroom as he slept, by an axe-wielding intruder on
August 10, 1919
. Boca awoke during the night to find a dark figure looming over his bed. Upon regaining consciousness, Boca ran to the street to investigate the intrusion, and found that his head had been cracked open. The grocer ran to the home of his neighbor, Frank Genusa, where he lost consciousness and collapsed. Nothing had been taken from the home, yet, once again, a panel on the back door of the home had been chiseled away. Boca recovered from his injuries, but could not remember any details of the trauma. It should be noted that this attack took place after the emergence of the infamous axman letter.
Sarah Laumann was attacked on the night of September 3, 1919. Neighbors came to check on the young woman, who had lived alone, and broke into the home when Laumann did not answer. They discovered the 19 year-old lying unconscious on her bed, suffering from a severe head injury and missing several teeth. The intruder had entered the apartment through an open window, and attacked the woman with a blunt object. A bloody axe was discovered on the front lawn of the building. Laumann recovered from her injuries, yet couldn't recall any details from the attack.
Police arrested several suspects but all were cleared of charges. However, a murder in 1921 brought attention to the wife of the last of the axman's victims when Esther Pepitone Albano shot and killed Joseph Mumfry in Los Angeles. Mumfry's criminal record in New Orleans included a 1915 arrest for the murder of Vincent Moreci of which he was cleared. He had been convicted for dynamiting the grocery of C. Graffignino at 241 South Claiborne and spent two years in the penitentiary before being paroled in 1917. Soon after he was arrested for carrying a concealed weapon and sent back to prison for the parole violation. He was realeased three months before Pepitone's murder. In 1919 he was again arrested in New Orleans -- in his pocket was a notebook containg the the name of Angelo Albano (1100 Howard Avenue) along with aproximately 100 other names of "Italians" living in the city as well as in Chicago, Shreveport, Baton Rouge, New York, and other cities. Police suspected that this was his blackmail list but could find no proof.
Not long after Michael Pepitone's muder, his widow married Anglo Albano (who was included in Mumfry's notebook). In 1917 Albano and Mumphry were arrested together in Jefferson Parish. According to Esther Pepitone Albano, her second husband went missing on October 27, 1921 after Mumfry repeatedly threatened death to both she and her husband unless they turned over money to him. Mrs. Albano said that she was sure that Mumfry had killed her husband. She said that on December 5, 1921 Mumfry came to her and demanded $500 and threatened to kill her if she refused, so she shot him in self defense. At the time of his death, Mumfy was using the alias "M. G. Leone".

From http://en.wikipedia.org/wiki/The_Axeman_of_New_Orleans and The Times-Picayune.

Related reading: