June 7


---

Miss New Orleans, Dorothy Lambour (Lamour) at the Club Forest
407 Jefferson Highway
June 7, 1931
Born in the charity ward of Touro Infirmary ("We were not well off", she said) on December 10, 1914 (?), Mary Leta Dorothy Slaton grew up to be a movie star. She attended Beauregard elementary school, where from she remembered playing hooky to go to Canal Street to pay 15 cents to spend the day watching the same movie over and over again. She was hooked.
The daughter of John Watson Slaton and Carmen Louis LaPorte, she was also raised by her cousin Jeanne Deshotels and her mother Jeanne Schwerz. After divorcing Slaton, Carmen married Clarence Lambour and Dorothy took his last name. Deshotel remembered taking the young "Dottie" to St. Louis Cathedral whereupon the child sang the 1918 jazz hit "Ja-Da (Ja Da, Ja Da, Jing, Jing, Jing!) when the organ began playing. "I was so embarrassed", she said, "I couldn't shut her up".
As a teenager, she began entering beauty contests. In 1929 Dottie took first-place in a Biloxi pageant and earned the title Miss American Legion of New Orleans. On July 26, 1930 she was a contestant, along with her friend Dorothy Dell Goff, in the Miss New Orleans beauty contest at Pontchartrain Beach's original location at Bayou St. John and the lakefront. Goff was crowned queen, and Dottie took fourth place, in front of a crowd reportedly of 10,000 people.
A few weeks later, on Friday, August 1, 1930, Dottie and Dorothy boarded a 9 p.m. train at Union Station along with their mothers to head to Galveston for the International Pageant of Pulchritude (the Miss America and Miss Universe contests). Dottie's ranking in the New Orleans pageant qualified her as an alternate for Goff, who was crowned Miss United States (Miss America) on August 5, 1930 and then Miss Universe on August 10, 1930 in the Texas pageants. Goff, as Dorothy Dell became a film actress whose young life was cut short in an automobile accident on June 8, 1934 near Pasadena, California.
Dottie Lambour won the 1931 Miss New Orleans contest wearing a blue bathing suit and a blue linen dress she had bought on Canal Street for $2.98. Miss Lambour is seen here in an advertisement for Club Forest (407 Jefferson Highway) on June 7, 1931. She did, in fact, go on to the 1931 Galveston pageant but failed to take a crown. She attended Spencer Business College and took a job in the real real estate business but still dreamed of fame. According a 1974 interview with local writer David Cuthbert, Dottie bought two tickets to Chicago, left one along with a note to her mother, and left New Orleans for a bigger city. Her mother arrived the following day. They took jobs in a restaurant, with Carmen in the kitchen and Dottie waiting tables. She said the trays were too heavy for her to carry so "I walked into Marshall Field Department Store. I had a terrible inferiority complex but when you do you put up more of a front." "I want to see the supervisor" she said, to which the response was "Which one?" "Well that stopped me. At D.H. Holmes and Maison Blanche all they had was one. In those days at Marshall Field they had nine. All I could get out was 'I want to ride an elevator'. She got the job.While performing at a night clubs she was "discovered" by orchestra leader Herbie Kay who hired her to sing for his band.
On November 14, 1932 she was back in New Orleans and back at Club Forest performing with Kay's "nation-wide famous band" featuring Dorothy Lambour (Miss New Orleans 1931)". She later said that a Dallas sign painter left the "B" out in her name on a hotel display announcing the band's performances and that Herbie Kay advised her to let it be, and so she became "Dorothy Lamour". She also became Mrs. Herbie Kay/Mrs. Herbert F. Kaumeyer on Monday, May 13, 1935. "Without Herbie, I don't think I'd be in show business", she said.
A November 23, 1936 article mentioned that Dorothy Lamour "once of New Orleans, is seen in a short feature on the Saenger bill" which was likely a short film adopted from her New York radio show "Dreamer of Songs". Local entertainment writer Charles P. Jones, in a
January 17, 1937
article, briefly reviewed "Jungle Princess" (starring Lamour and Ray Milland) which was playing at the Tudor Theater. "Miss Lamour is given a chance to sing as well as act, and the picture is certain to make its heroine and impressive movie figure", he wrote. And so it was. Not to mention that Dottie's "impressive figure" was wrapped in a sarong which made her as famous as she made it.
Costume designer Edith Head admitted that her sarong was "born" for "Jungle Princess". "It wasn't even authentic", she said. A real sarong wrapped the body only below the waist but that "wouldn't clear any censor". Head also described the process of selecting the sarong wearer for "Jungle Princess"; a nation-wide search by the studio brought in state winners for screen tests; each young woman wore the same sarong, same bracelet, and same blossom behind their ears; the wolf-whistle originated during Lamour's screen test as stage-hands watched and the wolf-whistle became a "system" at the studio whereby a certain number of whistles predicted a young actress' probable popularity with the general public.
The sarong and Lamour teamed with Hope and Crosby and went "on the road" to
Singapore
(1940),
Zanzibar
(1941),
Morocco
(1942),
Utopia
(1946),
Rio
(1947),
to Bali
(1952), and
Hong Kong
(1962). Dottie came home to celebrate her 50th birthday on
December 10, 1967
while on a tour starring in "Hello, Dolly!" which ran at the Municipal Auditorium on
Saturday, December 16.
Back home again to perform in "Fallen Angels" at the Beverly Dinner Playhouse on
February 22, 1974
she said to David Cuthbert of the Times-Picayune "Honey, those studios biographers didn't care what they said about you. They had me born in Chicago, New York, got may age wrong -- I don't care what the World Almanac or the film books say, I am 56, NOT 59!"
Dottie made a total of 50 films, seven of them in the "Road to..." series. During World War II she performed for GIs, hosted at USO facilities, was one of the most popular pin-up girls, and was not only the first star to volunteer to sell war bonds but is also credited with selling some $300 million worth of them. In later years she toured with theatrical shows and became more active in volunteer service. Referring to the 1987 film ''Creepshow 2,'' where she played sloppily housewife who is murdered, she said ''Well, at my age you can't lean against a palm tree and sing 'Moon of Monakoora.'' Dottie died on September 22, 1996 in North Hollywood at the age of 81.

---

You Can Support this Site by Clicking on & Shopping from this Amazon Link -- and it won't cost you a penny more: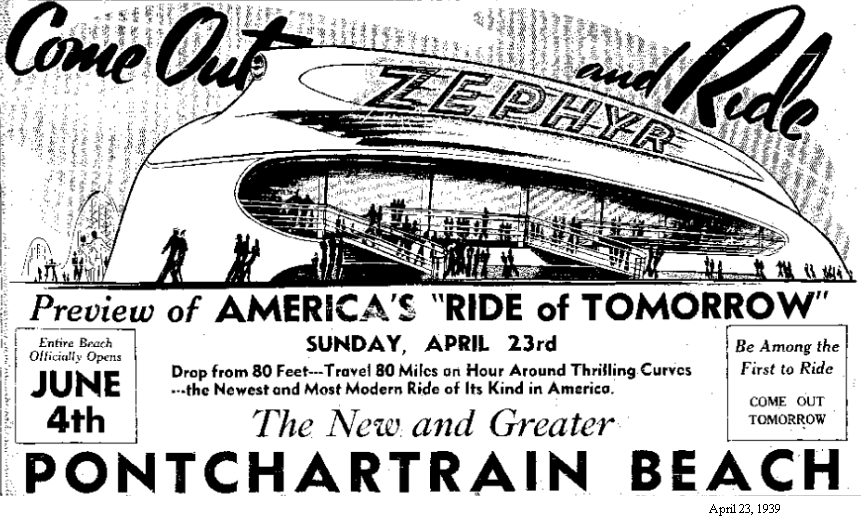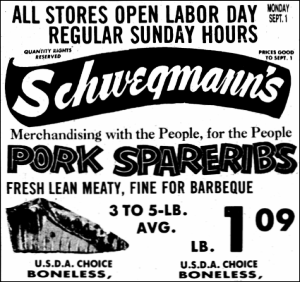 On Tuesday, June 7, 1983, the B-52's performed aboard the S.S. President steamboat river cruise. The show began at 9 p.m. for a $12.00 admission.

In 1890, the state of Louisiana passed a law (the Separate Car Act) that required separate accommodations for blacks and whites on railroads, including separate railway cars. Concerned, a group of prominent black, creole, and white New Orleans residents formed the Comité des Citoyens (Committee of Citizens) dedicated to repeal the law.[3] They eventually persuaded Homer Plessy to participate in an orchestrated test case. Plessy was born a free man and was an "octoroon" (someone of seven-eighths Caucasian descent and one-eighth African descent). However, under Louisiana law, he was classified as black, and thus required to sit in the "colored" car. On June 7, 1892, Plessy bought a first class ticket at the Press Street Depot and boarded a "whites only" car of the East Louisiana Railroad in New Orleans, Louisiana, bound for Covington, Louisiana. The railroad company, which opposed the law on the grounds that it would require the purchase of more railcars, had been informed already as to Plessy's racial lineage. Additionally, the committee hired a private detective with arrest powers to detain Plessy, to ensure he was charged for violating the Separate Car Act, as opposed to a vagrancy or some other offense. After Plessy had taken a seat in the whites-only railway car, he was asked to vacate it and sit instead in the blacks-only car. Plessy refused and was arrested immediately by the detective. As planned, the train was stopped and Plessy was taken off the train at Press and Royal streets. Plessy was remanded for trial in Orleans Parish.
CLARK, Joseph Samuel, educator, civic leader. Born, Sparta, La., June 7, 1881. Education: public and private schools in Bienville Parish, Coleman and Bishop colleges; Leland University, B. A., 1901; Ph. D., 1914; Selma University, M. A., 1913; Arkansas Baptist College, Ph. D., 1921. Further studies at Chicago and Harvard universities. Served as principal of Slater High School, Donaldsonville, and of Baton Rouge Academy between 1901 and 1912; president of Southern University, 1913-1938. During his administration, the school progressed from an institution with an enrollment of forty-seven students and an appropriation of $10,000 to a university with 3,067 students and an appropriation of approximately one million dollars. Married Octavia Head (q.v.). Two sons. Served as president of the National Association of Teachers in Colored Schools, 1916-1917; reorganized the Louisiana State Colored Teachers Association and served as president for eight years; member, Inter-Racial Council of Land Grant College Presidents Association; served as superintendent, Louisiana State School for Negro Blind in Baton Rouge. Appointed by President Coolidge to a commission to produce a national survey on education. Appointed by President Herbert Hoover as minister to Liberia, 1930, but declined the offer to continue development of Southern University. Appointed by President Hoover to the White House Committee on Child Welfare and Protection, 1930. Participated in the President's Conference on House Building and Home Ownership, 1931. Became president of the New Capital Insurance Company of New Orleans, 1932. Retired, June 30, 1938, completing a quarter century as president of Southern University. Succeeded by son, Felton G. Clark (q.v.). Died, October 27, 1944, New Orleans; interred campus of Southern University, Scotlandville, La. From http://lahistory.org/site20.php
You Can Support this Site by Clicking on & Shopping from the Amazon Ad/Link below -- and it won't cost you a penny more:


Abreviations used on this site: NOPL (New Orleans Public Library), LOC (Library of Congress), LDL (Lousiana Digital Library), HNOC (Historic New Orleans Collection), WIKI (Wikipedia).


Analytics