---

Commander's Palace
June 2, 2007


Commander's Palace, fully repaired and renovated post Hurricane Katrina, June 2, 2007.


Commander's Palace, located at 1403 Washington Avenue, was established in 1880 when Emile Commander opened a small saloon at the corner of Washington Avenue and Coliseum Street. Within a few years he turned it into a restaurant patronized by the distinguished neighborhood families of the Garden District. By 1900 Commander's Palace was attracting gourmets from around the world.
In the 1920s, Frank G. Giarratano was the owner of the restaurant. He lived above the restaurant with his wife, Rose and their two sons. Fearing that the restaurant business would decline and being in declining health, Giarratano sold the restaurant to Frank and Elinor Moran shortly after the end of World War II.
In 1944, Frank and Elinor Moran bought Commander's Palace, refurbished it and carried on its tradition of excellence with an expanded menu including many recipes still used.
Thirty years later, members of the famous Brennan restaurant family, headed by Ella Brennan, bought Commander's and redesigned the interior to complement the outdoor setting --large windows replaced walls, and custom trellises and paintings were commissioned. Ella encouraged innovative young cooks to add their own spin on traditional New Orleans cuisine. Chefs Paul Prudhomme and Emeril Lagasse are two of Commander's alumni.
The restaurant suffered extensive damage due to Hurricane Katrina in 2005. After a full renovation, the restaurant re-opened on October 1, 2006.
In 2001, a second Commander's Palace restaurant was opened in the Desert Passage mall adjacent to the Aladdin, Las Vegas casino (It subsequently closed a few years later). A Commander's Palace restaurant in Destin, Florida opened July 9, 2008, and closed in 2010. But the New Orleans flagship Commanders remains a popular and beloved landmark (Photo by Bobak Ha'Eri. Text from WIKI)
---

You Can Support this Site by Clicking on & Shopping from this Amazon Link -- and it won't cost you a penny more: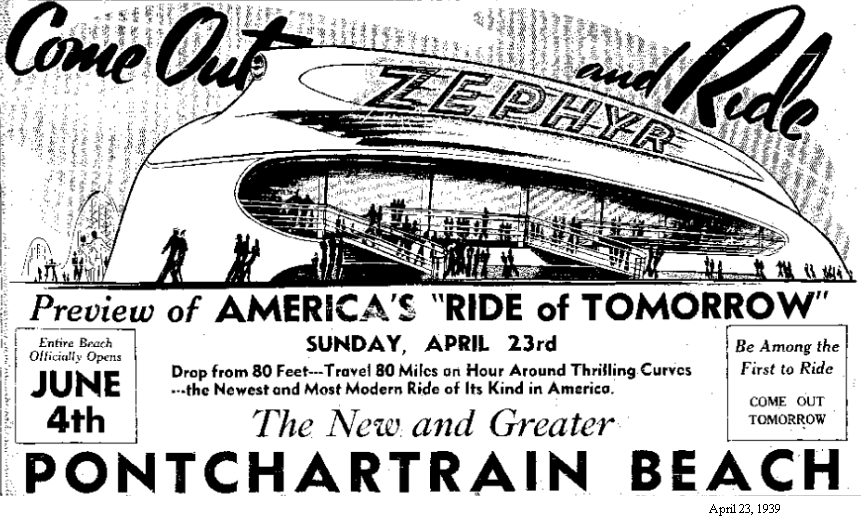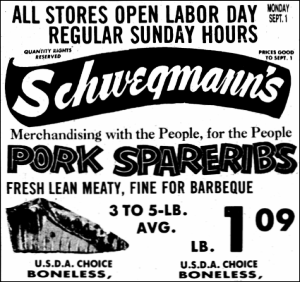 On June 2, 1944, the Liberty ship Walker D. Hines was launced by Delta Shipbuilding Company.
The World Cotton Centennial (World's Fair) opened in New Orleans on December 16, 1884 and ran until June 2, 1885 in what is now Audubon Park. It featured displays with a great deal of electric light illumination, an observation tower with electric elevators, and several prototype designs of electric streetcars.
BEATTIE, James, clergyman, teacher, and bookseller. Born near Dumfries, Scotland, December 3, 1803. Emigrated to New York at age 19; completed education in South Carolina and Georgia where he studied under Rev. Dr. Thomas Goulding and Rev. B. M. Palmer, Sr. Later arrived in New Orleans by way of Mobile, where he taught school and opened a bookstore. Twice married; one daughter, three sons. In January, 1838, he was ordained an elder of the First Presbyterian Church; began a city mission in his house in 1845 which eventually was re-organized into the Third Presbyterian Church. Beattie's sermons were evangelical and avoided the refinements of speculation and theological inquiry. Between 1850 and 1860 he preached in Connecticut and New York until his Southern sympathies brought him back to New Orleans where he served as pastor of the First Presbyterian Church during the wartime absence of the regular pastor, B. M. Palmer (q.v.), son of Beattie's boyhood mentor. Later, Beattie served as city missionary in the Carrollton district. In 1884 he retired to the North for reasons of health. Died, Saybrook, Conn., June 2, 1885. T.F.R. Source: Minutes of the Synod of Mississippi at the Fifty-sixth Annual Session, held in New Orleans, November 10th to 13th, 1886 (1886). From http://lahistory.org/site19.php
On June 2 and 3, 1871, a tropical cyclone that struck Galveston caused flooding in New Orleans which was described as a "submerged city" after the storm.
Charles M. Waterman, elected June 2, 1856, as the fourteenth Mayor of New Orleans.
On June 2, 1837, The Picayune reported "...the sight of the filth and stagnant water along the gutters is becoming rather monotonous to the lovers of variety".
Victor Séjour was born in New Orleans on June 2, 1817 to a free mulatto father from Saint-Domingue, and Eloisa Phillippe Ferrand, a free African-American octoroon born in New Orleans. His parents were wealthy, and had him educated in a private school. At the age of nineteen he moved to Paris to continue his education and find work. There he met members of the Parisian literary elite, including Cyrille Bisette, publisher of the black-owned journal La Revue des Colonies. Bisette published "Le Mulâtre", Séjour's first work, in 1837. The story of a loyal slave exacting revenge on his cruel master/father for the death of his wife, "Le Mulâtre" contains an indictment of New World slavery that is found in none of Séjour's subsequent work. Séjour then turned away from written fiction, and composed an ode to Napoleon in 1841 and the verse drama The Jew of Seville in 1844. The latter cemented his reputation as a playwright; he went on to write Richard III, a Shakespeare-inspired costume drama about Richard III of England that became his most acclaimed work. Towards the end of his life, however, Séjour's plays fell out of favor, resulting in a decline in his status. Written in French, "Le Mulâtre" had little effect on American literature, and was not even translated into English until the late 20th century. Its condemnation of slavery, however, anticipates the work of later African-American writers such as Frederick Douglass and William Wells Brown. He died in Sept. 1874. (WIKI)
James Pitot (1761–1831) was the second Mayor of New Orleans. Born Jacques-François Pitot in Normandy and educated in Paris, Pitot's family was of the nobility of France, and fled that nation for the New World with the French Revolution. At first he settled in Philadelphia, where he became an American citizen. After his arrival in New Orleans in 1796 he prospered as a merchant and became a member of the city council. As President of the Orleans County Police Jury (akin to a "county commission" elsewhere) when, January 31, 1814, he authorized the re-enlisting of free people of color into the local militia. After the resignation of Etienne de Boré, Pitot was appointed Mayor by Governor William C. C. Claiborne. He served as mayor from June 2, 1804 until July 26, 1805. During his administration the first city charter of New Orleans was enacted. His home along Bayou St. John is listed on the National Register of Historic Places.
On June 2, 1797, the City Treasurer reported to the Cabildo that a large quantity of rum and brandy distilled from sugar cane had been imported into the city through Bayou St. John, which he considers subject to the established taxes.
On June 2, 1786, Governor Governor Miro presented to the Cabildo an "Edict for Good Government." This edict, consisting of 34 Articles and appears to have been the first city laws issued by the Spanish Government up to this time. Articles 24 and 25 of this edict provide definite rules governing dogs and animals of various kinds running at large. Article 26 of the General City laws published by Miro provides that no dead animals be thrown in the streets, but should be buried. Articles 1, 2 and 3 prohibit work, traffic of carts and selling of merchandise on Sundays and religious Holidays. Section 27 provides that chimneys be cleaned punctually each month. Section 7 prohibits gambling or any game of chance Section 30 of the Edict of Good Government, published by Miro at this time, required that citizens have the fronts of their residence swept and watered. Section 29 of the Edict for Good Government published by Miro, requires owners to keep the property in front of their homes clean, cleaning the ditches without deepening them; to be done once a month. Article 34 of an Edict of Good Government published by Miro, prohibits the immigration of Creaole Negroes from the French and British Islands; orders that cargoes be inspected at the "Baliza" (Belize) and if the said Creole Negroes are found, that they be detained until their owners send them back by the first steamer; said Negroes to be fed at owners expense, while detained. tion 17 of the General City Laws established by Governor Miro provide definite traffic rules covering speeding on horseback or on carts in the city. (NOPL)