---

Beginning of the Esplanade Streetcar Route
June 1, 1861

A trip to City Park during the early 1860s required a ride from the city by horse and carriage on unimproved roads. Transit companies saw an opportunity to capitalize on the growing popularity of City Park by adding new lines. These afforded easy access and consequently interest in the park rose which led to the call for park improvements. On the river side of Bayou St. John the New Orleans City Rail Road Company operated the Esplanade and Bayou Bridge streetcar line (above) beginning June 1, 1861. On the lake side of the bayou the New Orleans City Rail Road Company ran the Bayou Bridge and City Park streetcar line beginning in the fall of the same year – they became the Esplanade line. From 1901 until 1934 the Canal and Esplanade lines operated in a loop as the Canal-Esplanade Belt, until the Esplanade line was replaced by buses. It's last run was on December 27, 1934. (Photo from the Louisiana Digital Library. Text from
New Orleans City Park
by Catherine Campanella.)
---

You Can Support this Site by Clicking on & Shopping from this Amazon Link -- and it won't cost you a penny more: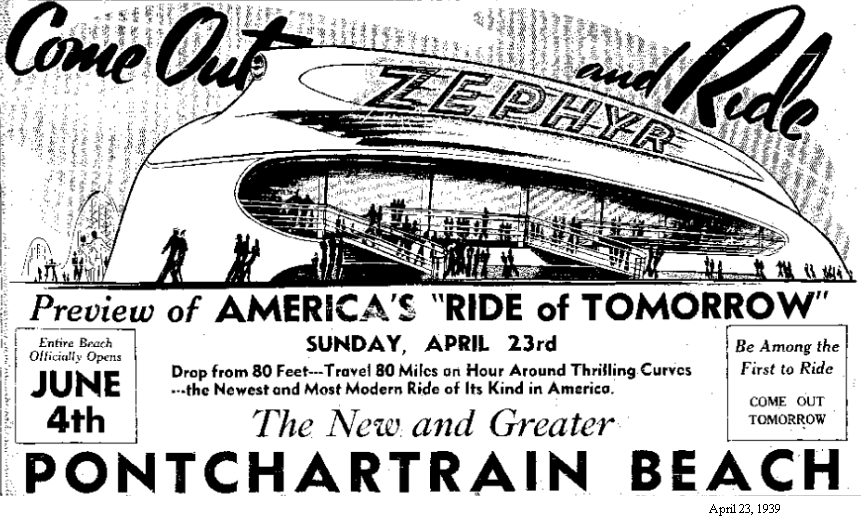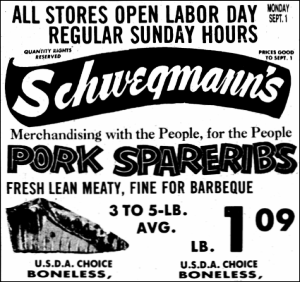 According to the American Society of Civil Engineers External Peer Review released June 1, 2007, the engineers responsible for the design of the New Orleans area outfall canal levees overestimated the soil strength, meaning that the soil strength used in the design calculations was greater than what actually existed under and near the levees during Hurricane Katrina. They made an unconservative (i.e., erring toward unsafe) interpretations of the data: the soil below the levee was actually weaker than that used in the I-wall design Another critical engineering oversight that led to the failure of the 17th Street Canal and London Avenue canals involveed not taking into account the possibility of a water-filled gap which turned out to be a very important aspect of the failures of the I-walls around New Orleans. No later expert studies disputed these findings.
C. Ray Nagin's second term as mayor began on June 1, 2006. He was intensely criticized by the local media throughout this term. For example, his "100 day plan" to accelerate the rebuilding of New Orleans was bashed for what critics said was a tardy release, lack of details and activity in moving forward. Nagin administration spokesperson Rob Couhig backed away from a 100 day promise, stating that it was not meant as a "time period," but as a short-range initiative to improve quality-of-life issues. Delays in FEMA reimbursements and federal recovery dollars reaching the city caused many significant delays (WIKI)

Born 1873, George Vital "Papa Jack" Laine was a pioneering band leader in New Orleans in the years from the Spanish-American War to World War I. He is often credited with being instrumental in the development of jazz music as his Reliance Brass Band was the first to fuse European, African and Latin music together. The earliest jazz musicians can be traced back to playing within the Reliance Brass Band or being influenced from those who had. Many of the New Orleans musicians who first spread jazz around the United States in the 1910s and 1920s got their start in Laines band, including the members of the Original Dixieland Jass Band. Laine was a drummer, but was more noted for his skills at arranging and booking bands. Laine's musicians included individuals from most of New Orleans' many ethnic groups such as African American, English, French, German, Italian, Jewish, Latin American, Scottish, and more. Laine started leading bands in 1885 before the Jim Crow codes went into effect in New Orleans. Due to the diverse background of many of his bands members such as their cultural background, socioeconomic status, age variations from young to old as well as musical experience (some having none at all) a broad range of ideas were developed and fused together leading to the early beginnings of jazz music. Even after segregation laws started demanding "whites" and "colored" be kept separate, Laine continued to hire light- and medium light-skinned African-American musicians, claiming that they were "Cuban" or "Mexican" if any segregationist tried to start trouble. As such his band attracted a large and diverse group of people such as Mexican clarinetist Lorenzo Tio Sr who was a pioneer of the jazz solo. Laine believed music brought people together. He retired from the music booking business by 1920, but he was interviewed a number of times, providing first hand accounts of the early days of the development of New Orleans jazz. He had hired well over 100 musicians to play in his bands. "Papa Jack" died on June 1, 1966. (WIKI)
St. Edward the Confessor parish in Metairie was established on June 1, 1964 and the temporary chuch opened, in what is now the school cafeteria, in 1965. St. Edward's school opened on September 1, 1965.
CODY, John Patrick, clergyman, prelate. Born, St. Louis, Mo., December 24, 1907; son of Thomas Cody and Mary Begley. Education: Holy Rosary Elementary School, St. Louis; St. Louis Preparatory Seminary; Propaganda Fide University in Rome, 1926-1930, Ph. D., 1928 and S.T.D., 1930; attended Appollinaris College in Rome, J.C.D., 1938. Ordained to priesthood in Rome, December 8, 1931; served on staff of North American College in Rome and at Vatican Secretariate of State, 1932-1938; secretary to John Cardinal Glennon and later chancellor of Archdiocese of St. Louis, 1938-1947; consecrated titular bishop of Apollonia, July 2, 1947; auxiliary bishop of St. Louis, 1947-1954; co-adjutor bishop of St. Joseph, Mo., 1954-1956; bishop of Kansas City-St. Joseph, 1956-1961; appointed titular archbishop of Bostra and co-adjutor to Archbishop Joseph Rummel (q.v.) of New Orleans, July 20, 1961; named apostolic administrator of New Orleans, June 1, 1962; became archbishop of New Orleans, November 8, 1964. Major contributions to New Orleans archdiocese include: establishment of twenty-five new parishes; vast building program of churches and schools; vigorous program of social justice highlighted by integration of Catholic schools; initiation of new programs for youth, handicapped, needy, and Catholic students in state colleges and universities; re-organization of the archdiocesan administration and finances; promotion of greater lay participation in church through Confraternity of Christian Doctrine and Family Life Bureau; encouragement of closer relationship with Protestant and Jewish communities through Operation Understanding. Appointed archbishop of Chicago, June 16, 1965; named cardinal priest, June 26, 1967 (first New Orleans prelate or former prelate to be named to College of Cardinals). Died, Chicago, April 25, 1982; interred Mt. Carmel Cemetery, Hillside, Ill. From http://lahistory.org/site20.php
Edgewater Club advertisement, June 1, 1934. The club was located in a camp just east of the future Causeway southern toll booth.

BREAUX, Samuel Locke, broker, businessman. Born, New Orleans, La., February 13, 1860; son of Emelie Locke and Gustave Arvilien Breaux (q.v.). Education: St. Philip School, New Orleans; St. Stanislaus, Bay St. Louis, Miss.; Virginia Military Institute, Lexington, Va., graduated 1875. Married (1) Nina Williams (d. 1892), April 6, 1885. Child: Samuel Locke, Jr. Married (2) Nina Alica Rogers, April 19, 1894. Married (3) Etta M. Hargis. Worked for several rice and cotton factoring firms in New Orleans; headed own factoring business, 1896-1914; worked for other firms from 1914 to his retirement in 1933; president, New Orleans Board of Trade, 1898 and 1900; headed freight and transportation bureau of that board; leader in movements to obtain parity in freight rates for New Orleans; vice president, Pan American Life Insurance Company of New Orleans. Member, Young Men's Gymnastic Club. Died, June 1, 1933; interred Greenwood Cemetery, New Orleans. J.B.C. Sources: Alcée Fortier, Louisiana (1914); New Orleans Times-Picayune, obituary, June 2, 4, 1933. From http://lahistory.org/site19.php
New Orleans Union Station was a railroad station in New Orleans, Louisiana. It was designed by Louis H. Sullivan for the Illinois Central Railroad and opened on June 1, 1892. It fronted on South Rampart Street, riverwards from the current New Orleans Union Passenger Terminal. The station was used primarily by the Illinois Central Railroad, as the terminus for its main line from Chicago, but, over time, it also served a number of other lines, including the Southern Pacific Railroad and the Yazoo and Mississippi Valley Railroad. By the 1940s, a total of 13 passenger trains arrived and departed from the station daily.
New Orleans Union Station was the only train station architect Louis Sullivan designed. It was constructed in the architect's well-known 'Chicago School' style and decorated with his iconic ornament. Adler and Sullivan's head draftsman Frank Lloyd Wright was involved in the final work under Sullivan's supervision.
Union Station was a three story hip-roofed structure with a cupola, including office and waiting areas, with a broad portico with central columns and arched entryways at each end of the entrance.
New Orleans at the time of the station's construction had several separate railway stations including the Texas Pacific Railroad-Missouri Pacific Railroad Station on Annunciation St. between Melpomene and Thalia Streets; The Louisiana and Arkansas-Kansas City Southern Railroad Station at 705 S. Rampart Street; the Southern Railway Terminal at 1125 Canal Street and the Louisville and Nashville Railroad Station, on Canal St. near the Mississippi River.
Union Station and the other stations were demolished in 1954 and replaced by the current New Orleans Union Passenger Terminal which were constructed to consolidate the Crescent City's inter-city railroad services.
From http://en.wikipedia.org/wiki/New_Orleans_Union_Station
---
"Willie" Pastrano in Southern AAU Boxing Charmpionship
June 1, 1951
Born in New Orleans on November 27, 1935, boxer Wilfred "Willie" Raleigh Pastrano was the light-heavyweight boxing champion of the world from 1963 until 1965.
A close friend of boxer Ralph Dupas, as kids they trained under Coach Ernest "Whitey" Esneault at St. Mary's Italian gym on Chartres Street in the French Quarter. The first mention of Pastrano in the Times-Picayune reported his upcoming bout for the Southern AAU boxing charmpionship at Buras Auditorium on June 1, 1951, representing St. Mary's CYO. He weighed 135 pounds. Several months later, he made his professional debut at age 16 on September 8, 1951 against Leo Bayard at Municipal Auditorium.
As a pro he was managed by Angelo Dundee and often sparred with Dundee's greatest champ, Cassius Clay/Mohammad Ali. Pastrano won the light heavyweight championship on June 1, 1963 against Harold Johnson in a 15 round decision at the Las Vegas Convention Center. He held the title by defeating Argentine's Gregorio Peralta with a technical knockout in the fifth round at the Municipal Auditorium on April 10, 1964, and again on November 30, 1964 at King's Hall in Manchester, England in an 11 round TKO.
Pastrano appeared on the cover of issue of Sports Illustrated with the caption reading "Light Heavyweight Willie Pastrano Ready to Defend His Title" against Jose Torres at Madison Square Garden. He lost that title on March 30, 1965 in a 9th round TKO, and never fought professionally again.
Willie Pastrano died n New Orleans on December 9, 1997 at the age of 62.
---