---

Happy Birthday Ernie K-Doe
Born on February 22, 1936 at Charity Hospital
Ernest Kador, Jr, known by the stage name Ernie K-Doe (the self proclaimed "Emperor of the World") was born at Charity Hospital on February 22, 1936. He recorded as a member of the group the Blue Diamonds in 1954 before making his first solo recordings the following year. "Mother-in-Law", his best known 1961 hit single, written by Allen Toussaint, was his first hit, and was #1 on both the Billboard pop and R&B charts. K-Doe never had another top-40 pop hit, but 1961's "Te-Ta-Te-Ta-Ta" (#21) and 1967's "Later For Tomorrow" (#37) both charted in the R&B top 40. He died on July 5, 2001. See
http://www.k-doe.com/bio.shtml
for a biography of this colorful New Orleans character who is pictured here battling James Brown at a dance competition at the Municipal Auditorium in 1963. Photo from http://www.k-doe.com/photo.shtml?kneeling_bw.
Listen to Ernie:
---

You Can Support this Site by Clicking on & Shopping from this Amazon Link -- and it won't cost you a penny more: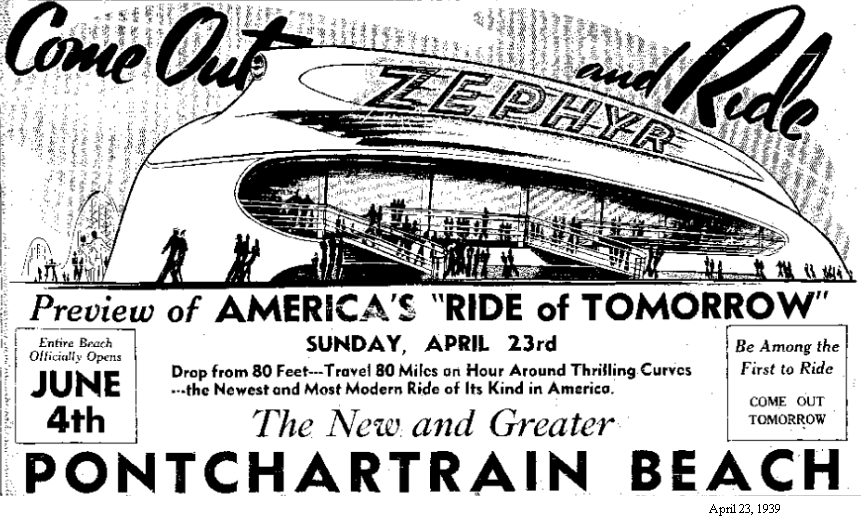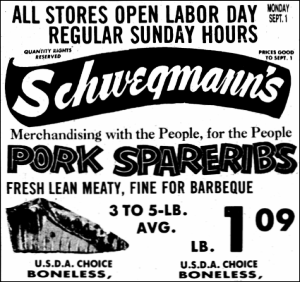 Jazz musician Nick LaRocca, born Dominic James La Rocca was born in New Orleans on April 11, 1889. He died in his hometown on February 22, 1961.
The South Claiborne Avenue streetcar first ran on February 22, 1915 and did so until January 5, 1953. In its later years, this line operated at the edges of the neutral ground, which covered a large drainage canal, part of which was open. The part of the neutral ground that was covered was planted in grass and ornamental trees and bushes called "The Greens".
On February 22, 1900, the first photographs were published in The Picayune. They depicted the Convent of the Rosary on St. Charles Avenue (now Academy of the Sacred Heart) and Governer J.C.W. Beckham's wedding photos.
George Augustin, journalist, author. Born, New Orleans, February 22, 1866, son of Judge James D. Augustin. Educated in New Orleans. Editor of The Creole Fireside. Many poems in New Orleans periodicals. Published Romance of New Orleans, Creole Sketches (1882); Claude Mirelle, A Christmas Story (1897), The Vigil of a Soul (1899) and The Haunted Bridal Chamber: A Romance of Old Time New Orleans (1902). Died, New Orleans, February 15, 1935. M.A. Sources: May W. Mount, Some Notables of New Orleans … (1896); New Orleans Times-Picayune, February 16, 1935 From http://lahistory.org/site18.php
Jefferson Davis was elected to a full six-year term as President of the Confederate States of America on November 6, 1861, and was inaugurated on February 22, 1862. Alexander Stephens was elected vice-president.
The erection of a new custom house building was planned and on November 22, 1847 was adopted by, R. A. Walker, secretary of the treasury. On February 22, 1849 the cornerstone was laid in the presence of Henry Clay who was visiting New Orleans at that time.
Elizabeth D. A. Cohen, who would become the first practicing female physician in Louisiana, was born in New York City on
February 22, 1820
, the daughter of Phoebe and Magnus Cohen. She married a doctor named Aaron Cohen with whom she had five children. When one of her sons died of measles as a little boy, she determined that she too should become a doctor in order to help mothers care for their children. When her husband moved to New Orleans to study surgery in 1853, Elizabeth chose to move to Philadelphia where she enrolled in the nation's first medical school for women, the Philadelphia College of Medicine. Upon graduation in 1857, she joined her husband in New Orleans, in time to serve patients during a major outbreak of yellow fever. Cohen reminisced about her career for two articles about her that appeared in the New Orleans Times-Picayune, one on her 93rd birthday and one on her 100th birthday. She recalled working through two yellow fever epidemics and described "attend[ing] to families through generations." It was hard for Cohen to gain recognition as a doctor. The city directory of 1867 listed her as a midwife. In 1869, she was included as a "doctress." Only in 1876 did the directory finally describe her as a physician. When she was admitted to an old age home, she asked the registrar to "insert M.D. after her name." Cohen retired from her active practice in 1887 and entered the Jewish community-sponsored Touro Infirmary in 1888 as a resident of the Department of the Aged and Infirm. She took an active volunteer role at Touro, overseeing the sewing and linen room. In her 100th birthday interview in 1920, she demonstrated that she was still attuned to what was going on in the world, noting (in anticipation of the ratification of the 19th amendment that year); "things will be better when women can vote and can protect their own property and their own children. Even if I am a hundred, I'm for votes for women." She died in New Orleans on May 28, 1921 and was buried in the Gates of Prayer Cemetery on Canal Street. Source: Catherine Kahn, "Cohen, Elizabeth D.A.," Jewish Women in America: an Historical Encyclopedia, pp. 243-244 at
http://www.jwa.org/this_week/week08/
Dorothy Lamour at the Beverly Dinner Playhouse
February 22, 1974
Born in the charity ward of Touro Infirmary ("We were not well off", she said) on December 10, 1914 (?), Mary Leta Dorothy Slaton grew up to be a movie star. She attended Beauregard elementary school, where from she remembered playin hooky to go to Canal Street to pay 15 cents to spend the day watching the same movie over and over again. She was hooked.
The daughter of John Watson Slaton and Carmen Louis LaPorte, she was also raised by her cousin Jeanne Deshotels and her mother Jeanne Schwerz. After divorcing Slaton, Carmen married Clarence Lambour and Dorothy took his last name. Deshotel remembered taking the young "Dottie" to St. Louis Cathedral whereupon the child sang the 1918 jazz hit "Ja-Da (Ja Da, Ja Da, Jing, Jing, Jing!) when the organ began playing. "I was so embarrassed", she said, "I couldn't shut her up".
As a teenager, she began entering beauty contests. In 1929 Dottie took first-place in a Biloxi pageant and earned the title Miss American Legion of New Orleans. On July 26, 1930 she was a contestant, along with her friend Dorothy Dell Goff, in the Miss New Orleans beauty contest at Pontchartrain Beach's original location at Bayou St. John and the lakefront. Goff was crowned queen, and Dottie took fourth place, in front of a crowd reportedly of 10,000 people.
A few weeks later, on Friday, August 1, 1930, Dottie and Dorothy boarded a 9 p.m. train at Union Station along with their mothers to head to Galveston for the International Pageant of Pulchritude (the Miss America and Miss Universe contests). Dottie's ranking in the New Orleans pageant qualified her as an alternate for Goff, who was crowned Miss United States (Miss America) on August 5, 1930 and then Miss Universe on August 10, 1930 in the Texas pageants. Goff, as Dorothy Dell became a film actress whose young life was cut short in an automobile accident on June 8, 1934 near Pasadena, California.
Dottie Lambour won the 1931 Miss New Orleans contest wearing a blue bathing suit and a blue linen dress she had bought on Canal Street for $2.98.
Miss Lambour is seen here in an advertisement for Club Forest (407 Jefferson Highway) on June 7, 1931. She did, in fact, go on to the 1931 Galveston pageant but failed to take a crown. She attended Spencer Business College and took a job in the real real estate business but still dreamed of fame. According a 1974 interview with local writer David Cuthbert, Dottie bought two tickets to Chicago, left one along with a note to her mother, and left New Orleans for a bigger city. Her mother arrived the following day. They took jobs in a restaurant, with Carmen in the kitchen and Dottie waiting tables. She said the trays were too heavy for her to carry so "I walked into Marshall Field Department Store. I had a terrible inferiority complex but when you do you put up more of a front." "I want to see the supervisor" she said, to which the response was "Which one?" "Well that stopped me. At D.H. Holmes and Maison Blanche all they had was one. In those days at Marshall Field they had nine. All I could get out was 'I want to ride an elevator'. She got the job.While performing at a night clubs she was "discovered" by orchestra leader Herbie Kay who hired her to sing for his band.
On November 14, 1932 she was back in New Orleans and back at Club Forest performing with Kay's "nation-wide famous band" featuring Dorothy Lambour (Miss New Orleans 1931)". She later said that a Dallas sign painter left the "B" out in her name on a hotel display announcing the band's performances and that Herbie Kay adivised her to let it be, and so she became "Dorothy Lamour". She also became Mrs. Herbie Kay/Mrs. Herbert F. Kaumeyer on Monday, May 13, 1935. "Without Herbie, I don't think I'd be in show business", she said.
A November 23, 1936 article mentioned that Dorothy Lamour "once of New Orleans, is seen in a short feature on the Saenger bill" which was likely a short film adopted from her New York radio show "Dreamer of Songs". Local entertainment writer Charles P. Jones, in a January 17, 1937 article, briefly reviewed "Jungle Princess" (starring Lamour and Ray Milland) which was playing at the Tudor Theater. "Miss Lamour is given a chance to sing as well as act, and the picture is certain to make its heroine and impressive movie figure", he wrote. And so it was. Not to mention that Dottie's "impressive figure" was wrapped in a sarong which made her as famous as she made it.
Costume designer Edith Head admitted that her sarong was "born" for "Jungle Princess". "It wasn't even authentic", she said. A real sarong wrapped the body only below the waist but that "wouldn't clear any censor". Head also described the process of selecting the sarong wearer for "Jungle Princess"; a nation-wide search by the studio brought in state winners for screen tests; each young woman wore the same sarong, same bracelet, and same blossom behind their ears; the wolf-whistle originated during Lamour's screen test as stage-hands watched and the wolf-whistle became a "system" at the studio whereby a certain number of whistles predicted a young actress' probable popularity with the general public.
The sarong and Lamour teamed with Hope and Crosby and went "on the road" to Singapore (1940), Zanzibar (1941), Morocco (1942), Utopia (1946), Rio (1947), to Bali (1952), and Hong Kong (1962). Dottie came home to celebrate her 50th birthday on December 10, 1967 while on a tour starring in "Hello, Dolly!" which ran at the Municipal Auditorium on Saturday, December 16. Back home again to perform in "Fallen Angels" at the Beverly Dinner Playhouse on February 22, 1974 she said to David Cuthbert of the Times-Picayune "Honey, those studios biographers didn't care what they said about you. They had me born in Chicago, New York, got may age wrong -- I don't care what the World Almanac or the film books say, I am 56, NOT 59!"
Dottie made a total of 50 flims, seven of them in the "Road to..." series. During World War II she performed for GIs, hosted at USO facilities, was one of the most popular pin-up girls, and was not only the first star to volunteer to sell war bonds but is also credited with selling some $300 million worth of them. In later years she toured with theatrical shows and became more active in volunteer service. Referring to the 1987 film ''Creepshow 2,'' where she played sloppily housewife who is murdered, she said ''Well, at my age you can't lean against a palm tree and sing 'Moon of Monakoora.'' Dottie died on September 22, 1996 in North Hollywood at the age of 81.