---

Jazzland/Six Flags Last Day
August 21, 2005
Photo by Chris Hagerman
The park first opened on May 20, 2000 under the name Jazzland operated by Alfa Smartparks. Rides included the wooden-tracked, steel-framed Mega Zeph roller coaster which was named after Pontchartrain Beach's Zephyr, a junior steel coaster called Rex's Rail Runner, a wild mouse steel coaster, and a common steel shuttle looping Vekoma boomerang rollercoaster named Zydeco Scream. The park included a Log Flume and a Splashwater falls ride called Spillway Splashout, spinning rides and a Carousel. The park was not profitable and in 2001 the lease was put up for sale.
In March 2002, Six Flags purchased the lease, continued operating the park, renamed and re-opened it as Six Flags New Orleans on April 12, 2003. Six Flags added shaded areas, new flat spinning rides, an inverted looping coaster that named and multiple looping coaster called The Jester (brought from Six Flags Fiesta Texas). In early 2005, Six Flags had planned a water park which would be included in the price of admission.
The last day the park operated was August 21, 2005. It was scheduled to open August 27 and August 28, as usual, but once Katrina was forecast late on Friday, August 26 to directly hit New Orleans, the weekend opening was canceled in order to prepare for the storm and begin evacuation.
Post Katrina:
On July 1, 2006, having previously announced that the park would be closed "at least" through 2007, Six Flags announced that they had concluded their damage assessments and declared the park to be an "effective total loss". On December 15, 2006, Six Flags confirmed that they were removing Batman: The Ride for refurbishment and relocation to a new park, as it was considered to be the only salvageable ride.
In April 2008 Southern Star Amusement Inc. proposed to take over the site lease from the then-owner Six Flags, promising to expand the park to over 60 rides (more than double its pre-Katrina size), complete a water park that Six Flags had been planning, and add an RV park.
On August 18, 2009, it was announced that the land would be redeveloped into a Nickelodeon-branded theme/water park.
On September 18, 2009, the city of New Orleans fined Six Flags $3 million and ordered the park to vacate its lease, which was done.
In 2010, the site was overgrown with debris and weeds. Removal of the debris and underbrush had just begun.
On January 21, 2011, Southern Star Amusements went public with new redevelopment plans for the park. The Paidia Company made a competing proposal to re-open the park as Jazzland
On March 6, 2012, the city of New Orleans gave the green light to build Jazzland Outlet Mall to Provident Reality Advisors and DAG Development.
In August 2011, the city of New Orleans called for proposals for redevelopment ideas for the site. In March 2013 the development plans were abruptly cancelled.
During the summer of 2013, portions of the park were being filmed for the movie Dawn of the Planet of the Apes until mid-August. The park was also used to film portions of the movie Jurassic World in the summer of 2014. (Source: Wiki)
---



---
The Saints first post-Katrina preseason "home" game was played at at Independence Stadium in Shreveport for on August 21, 2006 against the Dallas Cowboys.
On August 21, 2006, the former home of A.P. Tureaud, Sr. at 3121 Pauger Street was listed on the National Register of Historic Places.
deLesseps Story "Toni" Morrison, Jr., the older son of four-term New Orleans Mayor DeLesseps Story "Chep" Morrison, Sr., was an attorney and international business consultant who was a Democratic member of the Louisiana House of Representatives from 1974–1980. He was also president of the Young Democrats of America from 1973–1975 and a former member of the executive committee of the Democratic National Committee. At the age of thirty-three, "Toni" Morrison ran for mayor in the election of 1977 but finished in fourth place in the primary against city councilman Joseph V. DiRosa, Senator Nat Kiefer, and Ernest N. "Dutch" Morial. Morrison died on August 21, 1996 of cancer. He is interred beside his parents and brother, John Randolph Waterman "Randy" Morrison in the family tomb at Metairie Cemetery.
Eight automobile accidents occured during evening rush hour on August 21, 1963 on the Interstate expressway.
1963 -- Lee Harvey Oswald and Carlos Bringuier participated in a debate on live radio on the New Orleans station WDSU-AM.
On August 21, 1963, Lee Harvey Oswald debated Carlos Bringuier and Bringuier's associate Edward Butler, head of the right-wing Information Council of the Americas (INCA), live on the WDSU radio program "Conversation Carte Blanche", which rar from 6:05 to 6:30 PM.
On August 21, 1944, the Liberty shipAncil F. Haines was launched by Delta Shipbuilding Company.

United States patent No. 2,223 was awarded on
August 21, 1841
, to John Hampson on a "manner of retaining in any desired position the slats of Venetian Blinds." This adjustment design is still the most employed method in stringing Venetian blinds in use today. Hampson was not just some eccentric inventor. He was the Mayor of Carrollton before it was annexed by the City of New Orleans. The 1851 City Directory lists that as his occupation, as well as chief engineer for the N. O. & C. R. R. (the New Orleans and Carrollton Railroad, or present day St. Charles Avenue streetcar line). By 1855, Carrollton would have a stately City Hall designed by noted architect, Henry Howard, later home to a number of public schools (such as McDonogh 23, Ben Franklin and Lusher). It is located on Carrollton Avenue between Maple and Hampson, named for this little-known inventor and mayor. (From
"Creative Crescent City" by Ned Hemard
.)
Abe Shusan Indicted for Mail Fraud
August 21, 1939

The man behind the construction of the lakefront airport and the massive lakefront "land reclamation" along the New Orleans lake shore (see October 29) is pictured here walking out of his office alone on October 23, 1941, after learning of his impending arrest for defrauding his fellow citizens. He had no comments for the the news reporters gathered there but with a forced smile, said the the photographers, "TAKE A GOOD ONE, BOYS". The mandate for his arrest had been filed at 11:20 a.m. He was in federal jail by 4:00 that afternoon.
Eight years earlier, on February 10, 1934, the airport opened with great fanfare. More than 10,000 visitors from around the world attended the dedication of what was coined "the Air Hub of the Americas". Built at a cost of $4.5 million, the airport's 3,000 foot-long field qualified it for the U.S. Department of Commerce's highest rating of AA-I. The architecture was considered a modern marvel. Everything about the airport was state-of-the-art and first class. It was the first major airport in the region and the first combined land and seaplane air terminal in the world. And it was named Shushan Airport.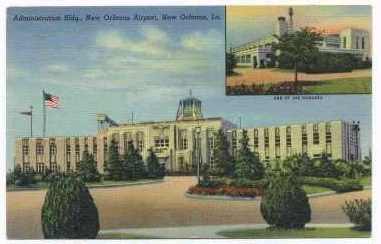 Architect Leon C. Weiss designed it (as well as the state capital, the governor's mansion, the Louisiana State University buildings, and the LSU Medical School. Inside the terminal building were/are beautiful Art Deco appointments as well as murals by artist Xavier Gonzalez, friezes by Enrique R. Alferez who also carved the Fountain of the Four Winds which stands out front.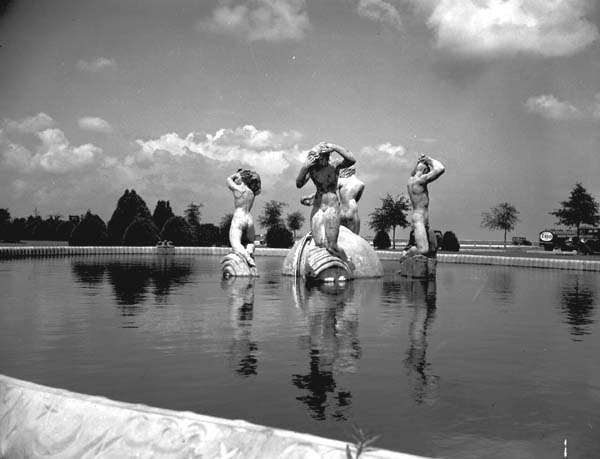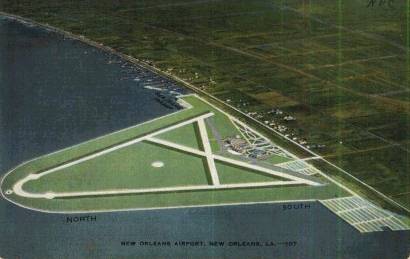 Shushan Airport, which had been under construction since 1929, sits adjacent to the Industrial Canal on a man-made peninsula jutting into the lake. To make land available for this elaborate project, the Orleans Levee Board drove a 10,000 foot retaining wall into the lake and pumped six million cubic yards of hydraulic fill to raise the field above the water. It was this project (and others) that landed Shushan, the levee board president, in hot water.
On March 27, 1934 he submitted his resignation, citing health reasons. In the letter of resignation to Governor O.K. Allen he noted accomplishments during his tenure which included a five-and-one-half long "levee" (along what is now Lakeshore Drive) with an average width of 3500 feet (over one-half mile) for eventual use as residential and recreational development (this became a part of the Lakeview post-WWII subdivisions of Lake Vista, Lake Terrace, etc.). Shushan was indicted on October 19, 1934 for eight counts of personal income tax evasion, was tried on October 8, 1935, and acquitted later that month of those charges. He remained the levee board president, however, because at at subsequent meetings of the board there were no quorums, therefore, no means of accepting his resignation. He was a slick operator, to say the least. He said, regarding the tax evasion charges, that he was being persecuted politically.
On August 21, 1939, Shusan (and five others) were indicted for mail fraud. He had allegedly been aware of a bribe which led a levee board member to pursue fellow members not to submit the job for public bid, resulting in Orleans Dredging Company netting the deal. In 1931 he also allegedly received $130,500 for his part in extorting exorbitant fees from the government, far in excess of services rendered, in a bond refunding deal and for using the U.S. mail to do so (mail fraud). But all that seemingly escaped notice for several years until until the indictment.. He was convicted on December 22, 1939 and sentenced to 30 months in federal prison on January 2, 1940. The U.S. Supreme Court refused to review the case on May 12, 1941 and declined to reconsider its decision on October 3, 1941.
In October 1941, the Orleans Airport Commission discussed removing the cornerstone of the Shushan Airport which included not only his name but the names of other former levee board members convicted of misdeeds during what became known as the "Louisiana Scandals". The cornerstone was reported to be "the only place where the name Shushan remains at the airport (which doesn't lend credence to the oft-told urban legend that his name was on all doorknobs, flooring, etc., including plumbing). The commission decided to keep the stone in place for "historical significance" and a matter of record which should be preserved.
Shushan was released from prison on parole in September of 1942. On February 28, 1947, President Harry S. Truman granted him a full and unconditional pardon.
Born on January 12, 1894 in Reserve, Abraham Lazar Shushan on died on November 3, 1966 at Touro Infirmary and is buried in Chevra Thilim Cemetery. He was educated in New Orleans and began his career at Shushan Brothers, a whole-sale dry-goods firm owned by his father and uncle, and later became its president and principal owner. He had served as levee board president during the terms of four governors (Parker, Fuqua, Long, Allen) who had all appointed him to the position beginning in 1920. He was a close personal friend of Huey P. Long. Shushan's political clout enabled constitutional amendments calling for the development of the lakefront to be enacted.
Related reading:
Louisiana Aviation: An Extraordinary History in Photographs
by Vincent P. Caire.