---

Bissonet Plaza Chartered
April 5, 1956

On April 5, 1956 the Bissonet Plaza Corporation was chartered. By the end of April the corporation, along with King and Sheets Corporation contractors, announced plans to build 106 homes at a cost of $1,376,400. Gillen, Blanke, Schouest, and Wilty streets were named for the assessor and members of the 1962 Jefferson Parish Council. Ackel Street was also named for a Jefferson Parish politician.
After Jefferson Parish residents voted to change their governing body from a police jury to a parish council (in November of 1952) they elected Donald T. Gillen to serve on it (along with Harold A. Buchler, who would later form the Bissonet Plaza Corporation). At that time Gillen was the manager of the P.I.G. (Progressive Independent Grocers) Store #2 at 3750 Jefferson Highway near the parish waterworks.
Vial J. Blanke (left) served on the Jefferson Parish Council along with Donald Gillen. Blanke made front page news, when he was a Jefferson Parish constable in December of 1957, for raiding Vic Gallo's gaming house at 120 Chesterfield Street off Monticello Avenue along the New Orleans/Jefferson Parish line. Blanke had claimed that Sheriff William S. Coci was soft on gambling and did not enforce the laws. The local press apparently just happened to be there at the time to – in order to photograph and report the incident. By February Gallo was acquitted due to insufficient evidence and Blanke lost his soft-drink route at Zet's Seven-Up Bottling Company because, he wrote in a November 1959 letter to the editor of the Times-Picayune, "I was dismissed on the grounds that I was causing the company loss of sales due to the pressure brought against all employees of the company by the sheriff and business establishments....[which] refused to do business with said company with a resultant drop in sales and my being fired". Blanke was infuriated because the newspaper failed to endorse his anti-gambling candidacy for a parish council seat (he won the election).
In July of 1957, fire gutted Gallo's establishment in the darkness of early morning – no fire had been reported and no calls to police had been made. The state fire marshall determined that an overloaded electrical circuit had been the cause. Gallo repaired his placed and continued his business while Blanke's future in local politics was relatively uneventful – until September 8, 1967 when Life Magazine included a photograph of him consorting with Joseph Armenio (described by Life as "a convicted murderer", alleged associate of Carlos Marcello, and Blanke's ally) at The Mist Restaurant and Lounge in Waggaman. Life reported that the two were discussing contributions to Vincent H. Ebeier Jr's unsuccessful campaign for sheriff against anti-racketeering incumbent Alwynn Cronvich. Ebeier went on to become commander of Louisiana State Police Troop B (1964 – 1967). Blanke's political career was over.
Cullen C. Shouest served along with Gillen and Blanke in 1962. With Paul V. Lambert, he owned and operated Sterling Ice Cream Company, Inc. located on Lafitte Avenue before moving to 340 Brooklyn near Jefferson Highway in 1950. In 1956 he was appointed to serve on the Parish Charter Commission to form a parish council. In 1957 he had contracted with Jefferson Parish to serve dairy products with school lunches.

Vernon J. Wilty, Jr., proceeded his father as Jefferson Parish assessor. In 1940, when Wilty Sr. was parish assessor, $1,211,778 was collected from 50,000 residents and businesses. By 1961 the numbers were up to $12,841,429 and 215,000. Jefferson Parish population had grown at such a tremendous rate that overseeing the office then required 35 employees.
George J. Ackel served in public office for 28 years as a parish councilman (17 years) and member of the Louisiana Public Service Commission (1976 until his death in 1988). He was an insurance executive, horse breeder, and real estate developer. After his death, Governor Buddy Roemer appointed his wife Jeanette Lentini Ackel to serve his unexpired term on the public service commission. She was the first woman to serve on the state utilities regulating group and served for eight months. Jeanette was the sister of Kenner Police Chief Sal Lentini.
Photo from the Jefferson Parish Yearly Review. Text from Legendary Locals of Metairie
---

You Can Support this Site by Clicking on & Shopping from this Amazon Link -- and it won't cost you a penny more: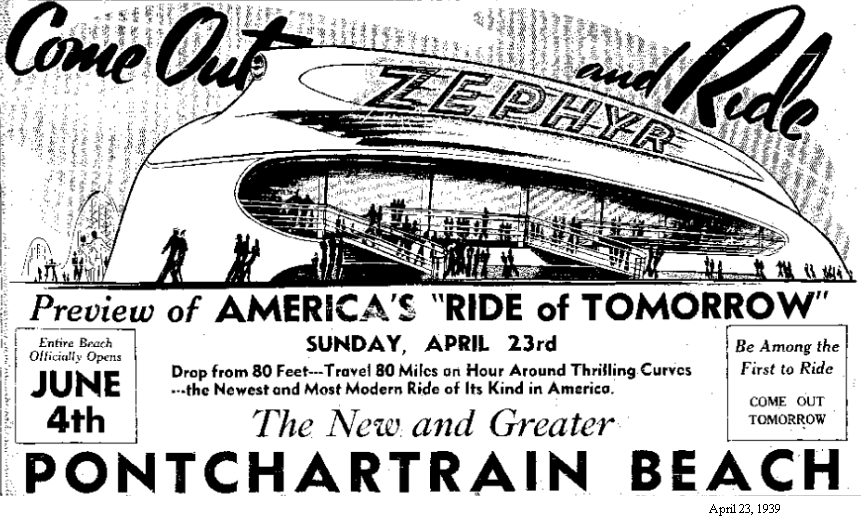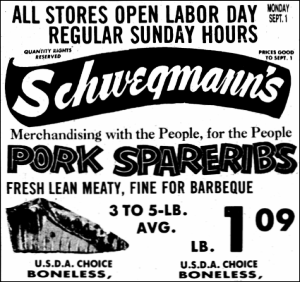 Louis Nelson was born on September 17, 1902 at 1419-21 Touro Street. During the 1920s, he played with Buddy Petit, Kid Rena, Kid Punch Miller, Sam Morgan, Chris Kelly, Papa Celestin, Willie Pajeaud, Kid Howard, Sidney Cates and Kid Harris' Dixieland Band. During the late 1920s he joined the Sidney Desvigne Orchestra. which played for white audiences at the New Orleans Country Club and the Southern Yacht Club. Monday and Tuesday nights were reserved for black audiences at such venues as the Pythian Temple and the Bulls Aids and Pleasure Club. During his 15 years with Desvigne's 10 piece Orchestra, Nelson played for summer Mississippi River cruises on the steamer S.S. Capitol. During the Depression, he became first chair in the Works Progress Administration (WPA) band. Between engagements, he and fellow musicians dug stumps for the City Park WPA expansion project. He enlisted in the U. S. Navy and became Musician 1st Class at the U.S. Navy base in Memphis, Tennessee. After the war he returned to New Orleans and resumed playing with Sidney Desvigne's Orchestra. In 1945 he joined Kid Thomas Valentine's band, playing at the Tip Top club, Fireman's Hall in Westwego, and Speck's Moulin Rouge in Marrero. He also worked for the Herbert Leary Orchestra at this time and kept day jobs as a driver for the post office, working as a fish merchant, chauffeuring, and working as a janitor. In 1949, he recorded with clarinetist Big Eye Louis Nelson Delisle, as well as Charlie Love, Johnny St. Cyr, Ernest Rogers, and Austin Young at his father's Touro Street house and recorded by jazz historian Bill Russell of AM Records. He played at the Paddock Lounge and Dixieland Hall, both on Bourbon Street. He was a regular player with the Preservation Hall band and travelled abroad as both a soloist and band member of the Billie and De De Piece and Kid Thomas Valentine's bands. His travels, begining in 1963, included perfomances with the George Lewis band in Japan, Eastern, Western Europe, South America, Australia, Canada and Mexico, as well as the United States. His music can be heard on the soundtrack of the movie Pretty Baby (1978) starring Brooke Shields. He can be seen in many New Orleans jazz documentaries, including Art Ford's House Party, Live the Jazz, Three Men of Jazz and Till the Butcher Cut Him Down. In later years, with a grant from the National Endowment for the Arts he developed a program in which he played for New Orleans public school students and discussed New Orleans jazz history. Lous Nelson appeared at every New Orleans Jazz and Heritage Festival until his death on April 5, 1990 as result of a hit-and-run collision.
The Liberty ship Andrew Stevenson was launched by Delta Shipbuilding Company on April 5, 1944.
In 1849, the Jewish Benevolent Society of Lafayette was organized. From this group evolved congregational services which were formalized the following year with the establishment of Congregation Shaare Tefillah (Gates of Prayer). Members initially hoped their that the more established Gates of Mercy would adopt Shaare Tefillah as a branch congregation, but the downtown Jews showed little interest in funding the project. Undaunted, the Lafayette City Jews proceeded to raise funds on their own. After meeting in a number of rented spaces, members succeeded in purchasing a building at the corner of Fulton Street and St. Mary. In 1859, the congregation purchased a lot at the corner of Jackson Avenue and Chippewa, but construction was delayed until the conclusion of the Civil War. Members of Gates of Prayer finally dedicated their new synagogue, (soon referred to as "The Jackson Avenue Shul") on
April 5, 1867
, an event which included members from city's other Jewish congregations as well as from the gentile community. (From the
Goldring/Woldenberg Institute of Southern Jewish Life)