---

Fire at Madame LaLaurie's Mansion
April 10, 1834
Written By Carolyn Morrow Long at KnowLA
Delphine Macarty Lalaurie was a wealthy white New Orleans woman infamous for cruel treatment of her slaves. Rumors of her atrocities had been circulating for years, and on the morning of April 10, 1834, a fire at Madame Lalaurie's [1140] Royal Street mansion revealed seven bondspeople who had been starved, tortured, and chained. As the day went on and the sheriff did not arrest the culprit, an increasingly angry crowd gathered around the Lalaurie home. Finally her carriage burst out of the gate and sped to Lake Pontchartrain, where she boarded a schooner. The mob, enraged by her escape, nearly demolished the empty house. The lurid nature of the actual events gave rise to subsequent rumors, urban legends, and folktales.
Madame Lalaurie, born Marie Delphine Macarty on March 19, 1787, was a member of the powerful Macarty clan, which included military officers, planters, merchants, and government officials. She was the daughter of the Chevalier Louis Barthélémy Macarty and his wife, Marie Jeanne Lerable. In 1800, at age fourteen, Lalaurie married Ramon López y Ángulo, newly arrived intendente of the Louisiana colony, a position second in command to the governor. Because López had contracted marriage without royal permission, he was relieved of his duties and sent into exile. He was eventually pardoned and given the position of Spanish consul to New Orleans. He died off the coast of Cuba on the return trip, and Lalaurie gave birth to their daughter in Havana in 1805.
Two years later, Lalaurie married Jean Blanque, a merchant, lawyer, banker, state legislator, and political intriguer, who was also a slave trader, smuggler, and associate of the pirates Jean and Pierre Laffite. Lalaurie had three daughters and a son with Blanque before he died, deeply in debt, in 1815. Lalaurie settled Blanque's estate and skillfully managed the land and slaves inherited from her parents. As a result, she was a very wealthy woman when she met her third husband, Dr. Louis Lalaurie, in 1825. Lalaurie was sixteen years younger than Delphine, newly arrived in New Orleans after graduating from medical school in France. A son was born five months before their marriage in 1828. The couple proved to be incompatible and lived apart much of the time.
Lalaurie, her husband, and other family members fled New Orleans after the 1834 fire, traveling from Mobile to New York and then to France. They first took refuge at Lalaurie's family home in Villeneuve-sur-Lot, but by 1835 they had settled in Paris. Within a few years Louis Lalaurie left for Havana and was never reunited with his wife and son. Delphine lived the rest of her life in Paris. She died on December 7, 1849, and was interred in the Cimetière de Montmartre. Her body was exhumed in 1851 for reinterment in St. Louis Cemetery No. 1 in New Orleans. Photo by Dropd
NOTE: According to The Collins C. Diboll Vieux Carre Digital Survey, the building pictured is not the same building inhabited by LaLaurie which was so badly damaged during the attack on the home that it was demolished. Also, her residence at the time of her death has been debated (Paris or New Orleans?). Recent information indicates that she returned to New Orleans where she died.
Related reading:
Mad Madame Lalaurie: New Orleans's Most Famous Murderess Revealed
---

You Can Support this Site by Clicking on & Shopping from this Amazon Link -- and it won't cost you a penny more: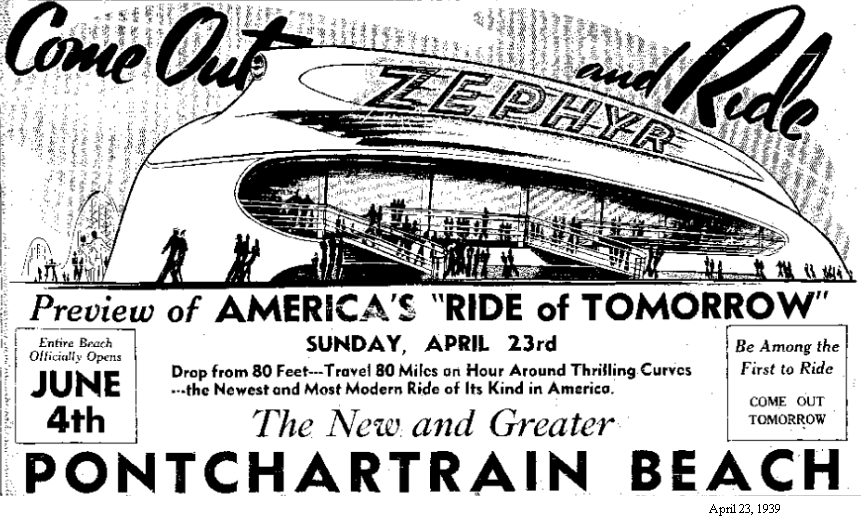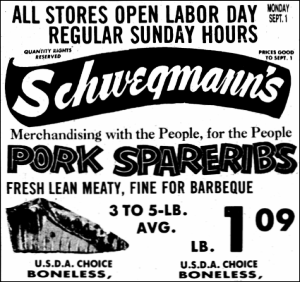 April 10, 1978 ad heralding "The Beginning Of A New Tradition": (Chief) Meteorologist Bob Breck. Robert E. Zabrecky migrated south from Dayton, Ohio to join Channel 8 on this day in 1978 to succeed longtime weathercaster Nash Roberts, who'd moved on to another station a month before. Bob's first major assignment was the May 1978 flood. Photo of advertisement. Thanks to Aaron Handy III for sharing this information.
"Library Week", observed April 10-15, 1939, was the high point of the publicity for the year. A proclamation by Mayor Maestri, pictures, cartoons, and stories by all local papers, radio talks, announcements by ministers and chairmen of organizations and a large electric sign donated by Public Service, focused attention on the Library. The Library Journal carried a long article about Library Week and reproduced the cartoon which appeared in the Picayune. [From the Annual Report of the New Orleans Public Library, 1939, p. 26]
Jazz cornet player and bandleader Joseph Nathan Oliver, better known as Joe "King" Oliver was born on December 19, 1881 in Aben, Louisiana. He moved to New Orleans in his youth. ] From 1908 to 1917 Oliver played cornet in New Orleans brass bands and dance bands, and also in the city's red-light district, "Storyville". A band he co-led with trombonist Kid Ory was considered to be New Orleans' hottest and best in the late-1910s. Oliver achieved great popularity in New Orleans across economic and racial lines, and was in demand for music jobs from rough working-class black dance halls to white society debutante parties. He was particularly recognized for his playing style and his pioneering use of mutes in jazz. Also a notable composer, he wrote many tunes still played today including "Dippermouth Blues," "Sweet Like This," "Canal Street Blues," and "Doctor Jazz." He was the mentor and teacher of Louis Armstrong who said "if it had not been for Joe Oliver, Jazz would not be what it is today." King Oliver died on April 10, 1938. (WIKI)
The National Drainage Congress met in New Orleans from April 10-13, 1912, proclaiming its purpose to...to promote the drainage of the 75,000,000 acres of wet lands in the United States, and the building of homes thereon as a means of benefitting the national health, of expanding the national food supply and lowering the cost of living, of supplying productive homes for those people who desire to move back to the farms, of checking emigration to Canada, of building a great and prosperous empire out of lands which have long been regarded as waste lands." (NOPL)
From
April 10 throug 15, 1910
, the Annual Session of the Ancient Arabic Order of the Nobles of the Mystic Shrine ("Shriners") held their convention in New Orleans.
View a postcard from ca. 1910 showing the Fruit Market
building that once sat upon the space now occupied by the Jeanne d'Arc statue at St. Philip Street between Decatur and North Peters--directly in front of the Vegetable Market building -- which includes a sign reading "Glad U Kum" sign sitting amidst the fruit being offered for sale.
John L. Lewis was elected the thirteenth Mayor of New Orleans, March 27, 1854, took office on April 10, 1854 and served until June 17, 1856. During the Civil War, he served in the Confederate Louisiana Militia as a General. Under his administration, two important enterprises for the beautification of the city deserve mentioning. They were: The completion of the Jackson Statue and the beginning of the movement which resulted in the erection of Henry Clay's Statue, unveiled April 12, 1860. The site in the Place d'Armes (Jackson Square, was chosen for the statue of Jackson, because in 1840 Jackson had placed there the cornerstone of what was intended to be a monument to the memory of the Battle of New Orleans. The appropriation $35,000 for the monument was made in a spirit of gratitude by the people of Louisiana and to commemorate the achievements of this hero to whose military genius and patriotic devotion in the hour of their greatest peril, they owe the triumph which served their principal city from capture by an invading enemy and which is one of the brightest pages in the history of the State of Louisiana. The Statue of Henry Clay was made by the celebrated American Sculptor Joll T. Ha.., and was moulded by Muller of Munich, it cost approximately $50,000. The site on Canal Street at the intersection of St. Charles and Royal Streets, was selected in order that the effect of a somewhat similar monument in Montreal, Canada, which the committee had admired, might be achieved. The cornerstone was laid April 12, 1856 on the 79th anniversary of Henry Clay's birthday. After being located on this site for 40 years, the bronze statue was removed to Lafayette Square where it stands today. This move was made necessary for the convenience of transportation. In the spring of 1855 a new fire ordinance provided that firemen should be paid. Until that date the service was voluntary, it was considered an insult to offer pay for the performance of what was regarded a social and civic duty. The City Government encouraged by the insurance companies, was not averse to seeking the volunteer fire departments disband. Lewis died May 15, 1886 at the age of 86. The last rites were held from the family residence, 329 Chartres Street and he was buried in the St. Vincent de Paul Cemetery. (NOPL)

Paul Bertus, Recorder of first Municipality was Acting Mayor from April 10-May 12, 1838 and again from February 7-26, 1843.
Marquis de Lafayette visited New Orleans on April 10, 1825. Accompanying Mayor He was highly honored at the Masonic Polar Star Lodge and the battlefield of Chalmette amid the thunder of artillery and the shouts of the assembled multitude. Then he was conducted in triumph to the Cabildo or City Hall which had been renamed Hotel de Ville, where he was received by the Mayor Count Louis Philippe Joseph de Roffignac and the Municipal Council. They welcomed him as one who had done so much for America during the revolutionary war, but also because he was so distinguished a guest from their own native France. Lafayette spent five days in New Orleans. (NOPL)

---
Willie Pastrano Defends His Title
April 10, 1964
Born in New Orleans on November 27, 1935, boxer Wilfred "Willie" Raleigh Pastrano was the light-heavyweight boxing champion of the world from 1963 until 1965.
A close friend of boxer Ralph Dupas, as kids they trained under Coach Ernest "Whitey" Esneault at St. Mary's Italian gym on Chartres Street in the French Quarter. The first mention of Pastrano in the Times-Picayune reported his upcoming bout for the Southern AAU boxing charmpionship at Buras Auditorium on June 1, 1951, representing St. Mary's CYO. He weighed 135 pounds. Several months later, he made his professional debut at age 16 on September 8, 1951 against Leo Bayard at Municipal Auditorium.
As a pro he was managed by Angelo Dundee and often sparred with Dundee's greatest champ, Cassius Clay/Mohammad Ali. Pastrano won the light heavyweight championship on June 1, 1963 against Harold Johnson in a 15 round decision at the Las Vegas Convention Center. He held the title by defeating Argentine's Gregorio Peralta with a technical knockout in the fifth round at the Municipal Auditorium on April 10, 1964, and again on November 30, 1964 at King's Hall in Manchester, England in an 11 round TKO.
Pastrano appeared on the cover of issue of Sports Illustrated with the caption reading "Light Heavyweight Willie Pastrano Ready to Defend His Title" against Jose Torres at Madison Square Garden. He lost that title on March 30, 1965 in a 9th round TKO, and never fought professionally again.
Willie Pastrano died n New Orleans on December 9, 1997 at the age of 62.
---
Pat O'Brien's Mercedes Passes Away
December 3, 1933
During prohibition, North Carolina native Charlie Cantrell was running rum in Plaquemine. He was also a master of the "Shake Up" which involved mixing grain alcohol with flavorings to create concoctions tasting like gin, whiskey, rum, and other liquors. "Sometimes it wasn't too good, but it could get you drunk", said Cantrell. Benson Harrison "Pat" O'Brien was a customer who bootlegged liquor back home to Birmingham. They became friends.
O'Brien, after several business endeavors, moved to New Orleans and ran a speakeasy. After prohibition, on December 3, 1933 he opened a package liquor store at Royal and St. Peter Street. In 1934 he opened Club Tipperary at 524 St. Louis. (The advertisement at the right ran in the Times-Picayune on March 18, 1934.) Cantrell financed it. Then, as equal partners, they moved to another location in the 600 block of St. Peter Street across from the original store. Cantrell later bought 10% of O'Brien's share, making him the controlling partner. In December, 1942 they moved to the current location of the world famous Pat O'Brien's bar at 718 St. Peter and called it Pat O'Brien's.
The building was historic long before Cantrell and O'Brien made it famous. Built in 1791, it housed the first Spanish theater in the United States. The famous Hurricane cocktail was first mixed there 146 years later. In 1937 a liquor salesman was hawking 60 bottles of rum at a bargain basement price and would even throw in 15 dozen glasses shaped like the globes of oil fueled hurricane lamps. The rum wasn't selling as Cantrell had hoped, so he decided to experiment. He mixed 4 ounces of it with red fruit juice and sugar, and instructed his waiters to tout these drinks. Customers loved them and their glasses. Cantrell, a savvy businessman began selling both.
That same year (1937), Mercedes Paulson and Sue Wheeler first performed together at the dueling pianos (thought to be the first in the country). "Sue" was actually Sara Belle Wheeler, a native of Vicksburg who had been educated in New Orleans. She passed away on Saturday, March 10, 1956 at the age of 38 after having played at Pat O's for 19 years. Mercedes LeCorgne Paulson, a native New Orleanian, died on Thursday, April 10, 1980 at the age of 74. Her booming baritone, which graced main bar for 32 years, is still remembered by many. She retired from Pat O'Brien's in 1968.
Charlie ran the business. Pat handled the customers. They were perfect partners for the business. During World War II, Cantrell worked in a defense shipyard where he met George Oechsner, who would become the bars General Manager, taking Cantrell's place and becoming part owner in 1947. In 1979 Oechsner's son George "Sonny" Jr. took over the role. It was Sonny's idea to begin franchising and Pat O'Brien's bars sprouted up in Orlando, San Antonio, Memphis, Cancun, and Destin. Sonny also added a restaurant upstairs, purchased a building on Bourbon Street for expansion, opened a location at the Jaz Brewery, introduced an online catalog for selling branded items, and acquired a bottling plant.
The guys who ran the place for so many years are all gone now. Pat O'Brien died on November 10, 1983. Geroge D. Oechsner Jr. followed on December 11, 1990. Charlie Cantrell passed away on March 23, 1993. Sonny died on March 12, 2012. But the business the two bootleggers started and the local men continued remains, now an iconic New Orleans bar known around the world.
Upon Sonny's death, his daughter Shelly Oechsner Waguespack became Pat O'Brien's president and sole owner.

1947 postcard